Each of us can recall the comforting, pleasant smells spreading from Grandma's kitchen and the delicious dishes she would make for the entire family.
For many of us, memories of cooking with Grandma are the most pleasant childhood memories. Therefore, as long as our children have the opportunity to cook with their grandmothers, we can be confident that they will make lovely memories while also learning crucial life skills.
The number of reasons why grandmothers are adored family members is virtually endless. Grandma is loving and nonjudgmental. She demonstrates boundless, unconditional love and offers solace and understanding, even when no one else does.
Finally, Grandma makes the finest meals. And she lets you help her out in the kitchen.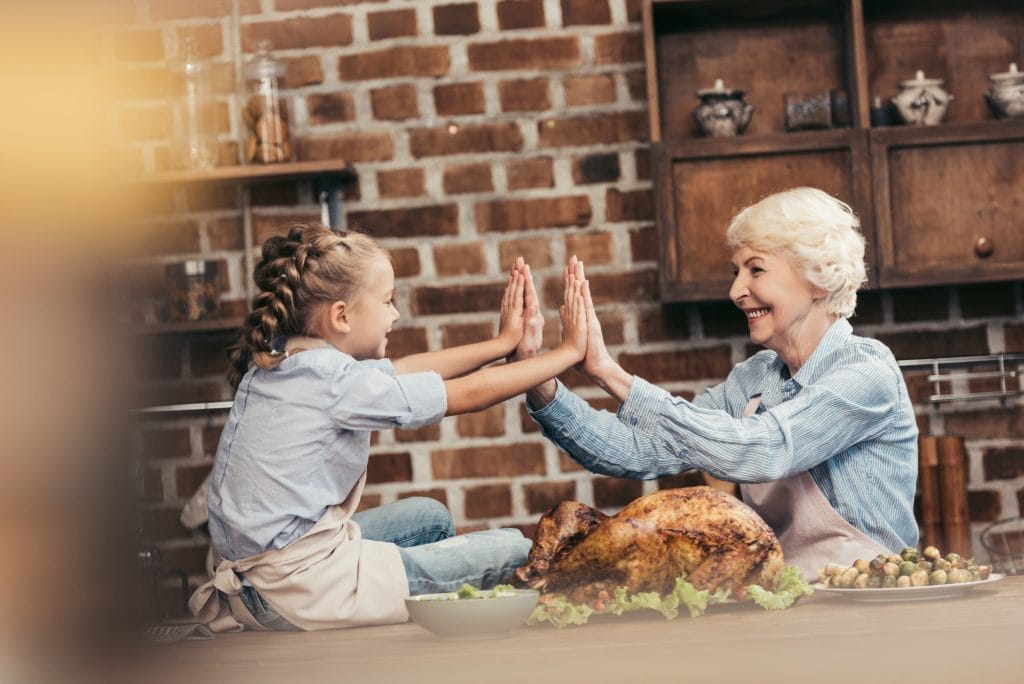 Cooking with Grandma: Why Is It So Important?
Cooking and baking with Grandma can benefit both children and grandmothers (and the entire family) on so many levels. Here are some of the most important benefits of cooking with Grandma.
Cooking with Grandma Strengthens Family Bonds
Dishes that come from a grandmother's kitchen are not only nutritious and tasty. Food is also an important element of keeping family members together in many families. Gathering in Grandma's kitchen to cook her meals on holidays is a fantastic way to spend time together, connect deeply, and teach grandkids about family cuisine and heritage.
Cooking in Grandma's Kitchen Preserves Tradition
Cooking with Grandma is also an excellent way to teach the family's younger members about the family's cultural heritage and to preserve and pass on the customs, recipes, and traditions.
Each family has its own set of personal and cultural customs that have been passed down from generation to generation. Grandmothers are the custodians of tradition in most families, ensuring that the youngest family members acquire key cultural values and cultural identity. This is especially important in immigrant households, where raising children in a bicultural context may be difficult.
Cooking with Grandma Helps Redirect Behavior
It can be difficult for parents to deal with their toddlers' challenging behaviors at times. Cooking with Grandma can be a great way to encourage a child's natural interest in manipulative play, pretend play, and hands-on experiences. As a result, engaging in a cooking activity with a grandmother might be an effective way to redirect your child's challenging behavior without resorting to punishment or becoming stressed.
Cooking and Baking with Grandma Unleashes Creativity
Experimenting with Grandma's recipes is the best way to exercise creativity and imagination without fear of being criticized or the pressure to attain perfection. And the joy and self-pride when children watch their creation emerge as a cake are priceless.
Cooking is also a fantastic comforting activity that can have a therapeutic effect. It can help both grandmother and child relax and remove focus from disturbing thoughts or challenging behaviors.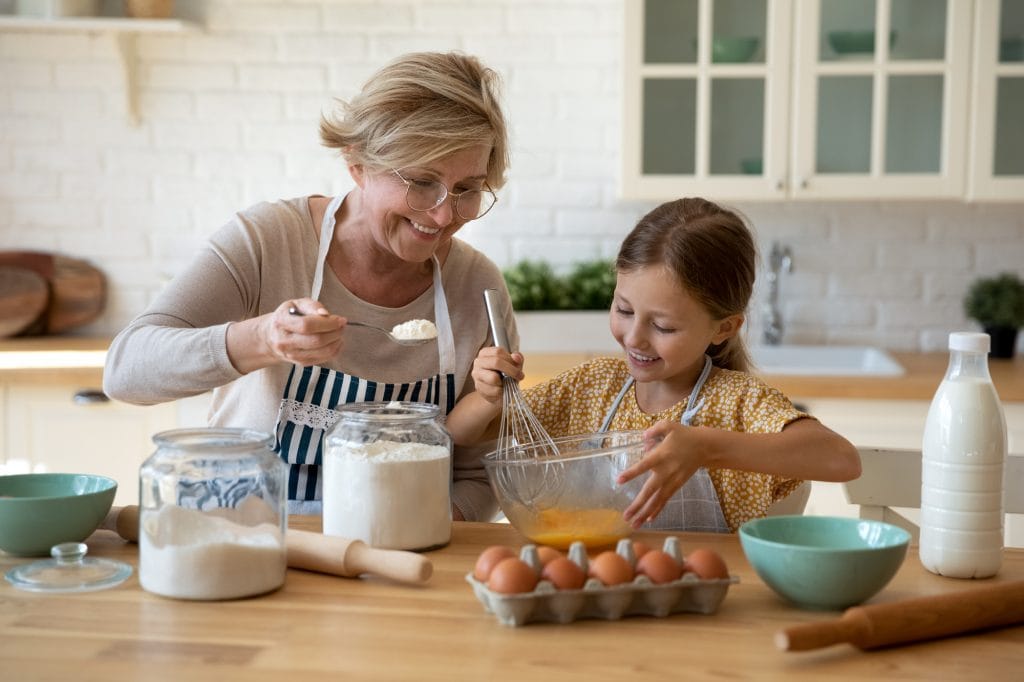 What Important Kitchen Skills Can Children Learn from Grandma?
By cooking and baking with Grandma, children can develop their fine motor skills. They develop coordination, strength, and balance while kneading, scooping, measuring, stirring, and decorating.
Using plastic cookie cutters, plastic knives, or customized knives that are not sharp allows children to learn cutting skills.
Cutting skills promote fine motor skills by promoting hand and finger dexterity, hand-eye coordination, pincer grasp, and hand and finger strength. Also, cutting increases attention to tasks, improving the child's ability to focus and concentrate. And the most important thing is there us no one can teach you better than your Grandma.
Spending time in Grandma's kitchen is also a great way to discover the world of cooking and baking in all of its forms. From learning their grandma's secrets for making the perfect cake to mixing herbs and spices to create their culture's traditional dishes, cooking with Grandma is a perfect way to develop a love for cooking and healthy food choices and connect children with their tradition.
Activities to Do with Grandmother
One of the most exciting activities to do with grandma is to prepare a family recipe book to preserve all those beautiful recipes for future generations and pass on family cooking traditions.
Grandmothers have a unique opportunity to share their culture, values, memories, and family history with the youngest family members. Making a family recipe book with grandchildren can be an excellent way to teach them important family traditions, give advice, pass on cooking skills and recipes from generation to generation, and strengthen family bonds.
Summary
The family tradition of cooking with Grandma is a global phenomenon found in nearly every culture on the planet. Grandmas are typically non-judgmental, patient, and compassionate. Therefore, for most children, helping their grandmother in the kitchen is probably the most enjoyable aspect of cooking with adults.