Cooking is one of the basic life skills, so there is little doubt about whether children should get involved in the kitchen. Getting kids to help with cooking can encourage them to make healthy food choices. It can also enhance their independence, motor skills, social-emotional development, and much more.
However, cooking with children, especially those with special needs, can be challenging.
One of the first things to keep in mind is how to childproof your kitchen, so it is safe and easy to use for your child with special needs.
Make sure to adapt the kitchen to your child's unique needs and use child-friendly kitchen furniture and utensils.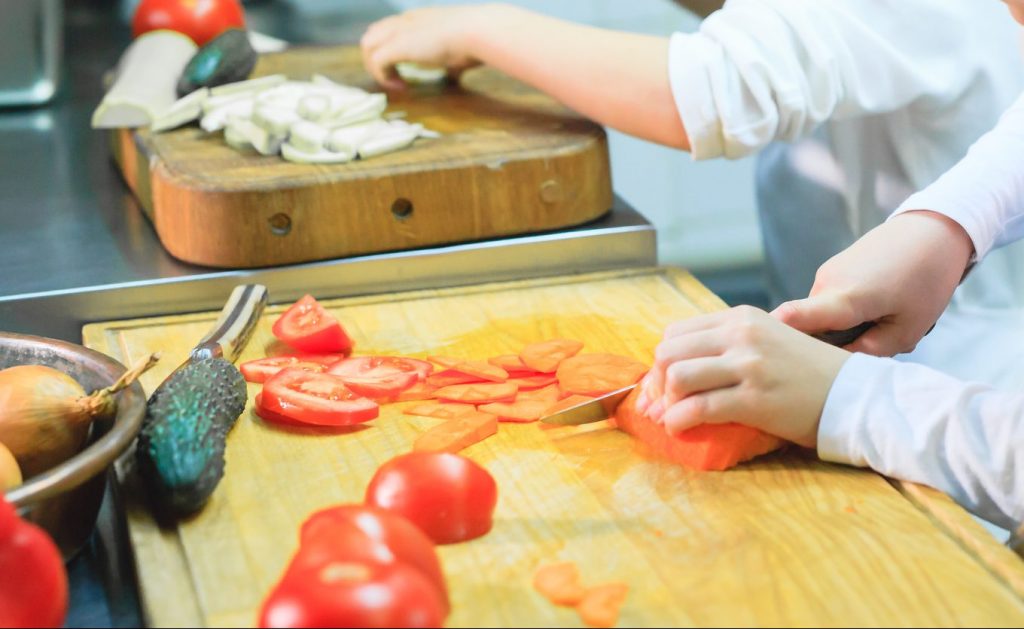 How Does the Kitchen Help Children with Special Needs?
Below, you will find some tips on making cooking and baking with special needs children educational, fun, safe, and less challenging. But first, let's look at the advantages of involving kids with special needs in culinary activities.
Cooking Can Improve Hand-Eye Coordination
Children on the autism spectrum may struggle with daily tasks requiring dexterity and hand-eye coordination. Decorating cupcakes and putting frosting on cookies might boost a child's hand-eye coordination, allowing them to do tasks like writing, catching a ball, using a spoon, or getting dressed more effectively.

Cooking Can Help Children Employ Their Creativity
Children with special needs can be creative and spontaneous. They may have original, artistic ideas and unique problem-solving ideas. Involving these children in cooking activities can help release their creativity and raise their self-esteem as they take pride in their culinary creations.

Cooking Can Improve Language Skills
Providing children with recipes and instructions to follow while cooking can help develop their listening skills and improve speech and language.
Speech and language are critical skills that children with special needs may take longer to develop. Cooking with adults can encourage them to talk about what they are doing, follow the instructions, learn new words, use words to express their thoughts and feelings, and more.

Cooking and Baking Can be Great Sensory Activities
Research shows that children on the autism spectrum may benefit from sensory activities that involve different textures, scents, colors, or sounds. Sensory activities can be a good way for kids with autism to learn because they use all brain parts. This helps them improve their cognitive, physical, and social-emotional skills.
Cooking can be an excellent sensory activity to help children with autism cope better when dealing with different textures, lights, sounds, tastes, and scents.

Specific Kitchen Activities to Do with Children with Special Needs
Consider your child's age, abilities, and needs to make cooking activities safe, fun, and less challenging. It is critical to be aware of the child's restrictions before cooking with them, so you can make necessary changes and adjustments.
Start With Simple Activities
Such as unpacking and sorting food. For example, ask your child to help you unpack grocery bags and put the groceries away.
Also, you can ask them to wash the vegetables and fruits that you will use for a meal.

Prepare Simple Dishes
Making complicated meals might make the activity frustrating, causing your child to lose interest and feel unsuccessful and overwhelmed. So, begin with simple dishes with minimal ingredients and steps.
For example, start by making a pizza with pre-prepared dough. Let your child choose and explore the toppings before adding them.

Use Examples, Images, and Videos
Using visuals during a cooking activity can help your child understand and follow the recipes, learn cooking techniques, and gain confidence in their skills. Also, make sure to use visual explanations and show your child how you perform specific activities.

For example, if you are frosting the cupcake, give another one to your child and show them how to hold the cupcake and spread the frosting so they feel confident doing it alone the next time.
Kitchen Utensils to Use when Cooking with Children with Special Needs
Many children with special needs suffer from sensory issues, so kitchen knives and other sharp utensils would be very dangerous. Instead, opt for adapted utensils and cutlery to help children with sensory sensitivity, weak grip, low muscle tone, or hypermobility.
For example, use supersized cookie cutters and molds to compensate for a weak fine motor. Also, use children's plates and bowls with suction bases to prevent spills.
Furthermore, purchase child-safe knives and always supervise your child while using them. Make sure to place locks on the bottom cupboards, secure all freestanding shelves to the wall, and protect the stove, oven, and other kitchen equipment.
It is essential to know that risks are a part of food preparation. Cooking with special needs children is an opportunity to teach them about kitchen dangers and how to prevent them.