Today we'll dive into the Kiritsuke VS Nakiri debate. Both chef's knives can perform exceptionally well in the right pair of hands, but it's important to understand the differences between the two to make sure you're using your tools properly.
On this page, we'll explore both Kiritsuke and Nakiri knives. We'll cover what sets them apart from each other, what each knife works well for, and how to pick an option that works well for you.
Kiritsuke Overview
Kiritsuke knives are a double-edged variant of the more universally known Gyuto knife. Their flat, long blade is often compared to a mini sword. The sharpness on offer with this type of knife is really quite something.
For making long, exceptionally thin cuts in raw fish, Kiritsuke can be an absolute Godsend. Vegetable and general kitchen prep are also handled well by this kind of knife.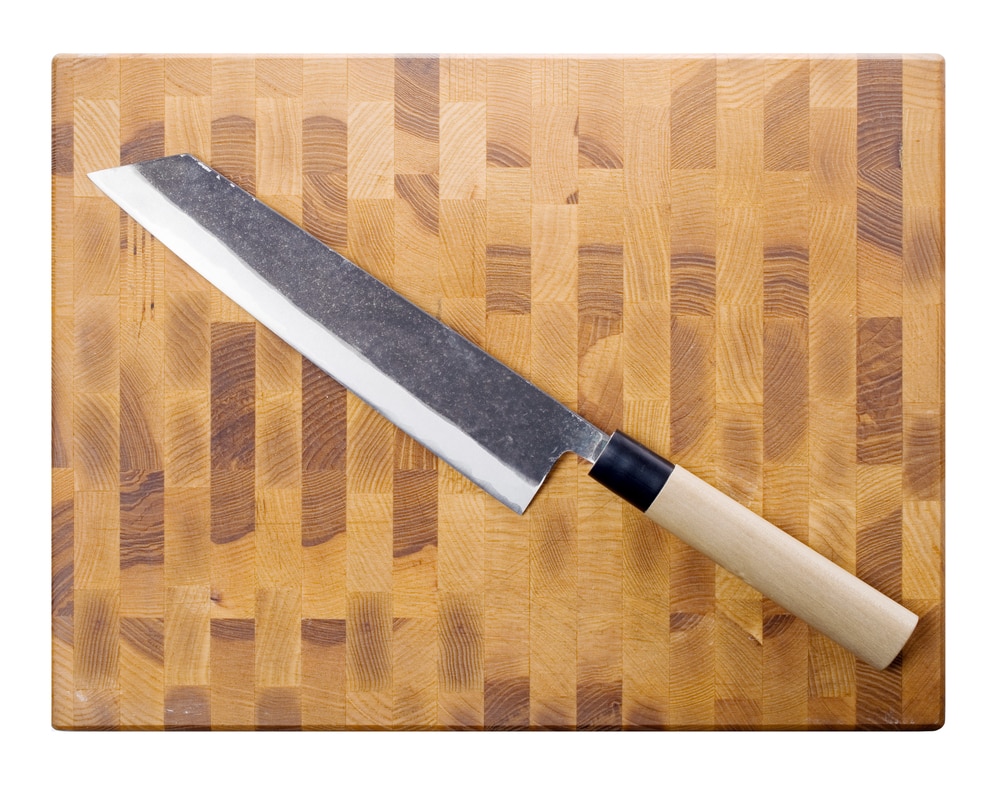 Shape
The long, completely flat blade of Kiritsuke knives can be tough to get used to for less experienced chefs. Don't be surprised if there's a bit of a learning curve, to begin with. For many chefs, though, the wait is more than worth the effort.
The length of the blade alone can make handling entire fish fillets much easier. The level of sharpness on offer is also hard to deny.
Ease of Use
In old-school contexts, Kiritsuke knives were used only by the most experienced chefs. Things have relaxed considerably these days, but it's still important to make sure you have the requisite skills before spending money on this type of tool.
The balance and length in particular will take some getting used to. You'll be able to achieve very thin, precise cuts if you know what you're doing, but you'll struggle if you've never used one before.
Skilled chefs swear by their Kiritsuke knives, though.
Single-Bevel Sharpness
The single-bevel design used by most Kiritsuke knives offers crazy levels of sharpness. It also "pushes" the food you're slicing away from you in a single direction which can make more precise cuts much easier to accomplish.
The more modern "kiritsuke gyuto" variant of these knives features a double-bevel edge for a more western style of cutting.
Uses for Kiritsuke Knives
Preparing longer cuts of raw fish
Vegetable prep
Bigger cuts of softer meat
Versatile kitchen tasks
Kiritsuke Basic Stats
Blades 9.5 – 13 inches long
1 – 2 mm blade thickness
HRC of 59 – 63
Nakiri Overview
Nakiri knives are rectangular in shape and feature a blunted blade tip. This means that to an untrained eye, they more closely resemble a cleaver than a chef's knife. Don't be fooled, though – there's more versatility on offer here than first meets the eye.
Intricate, thinner cuts of food are surprisingly easy to accomplish with a Nakiri knife. They're also comparatively lightweight and easy to handle which is one key point of difference VS a Kiritsuke knife.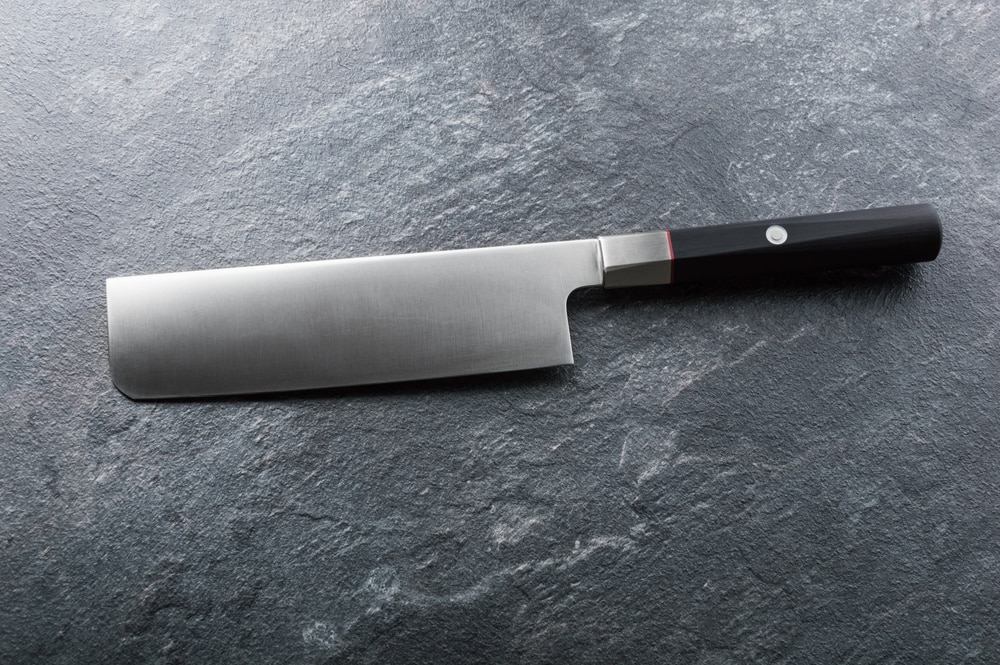 Hand Motion and Shape
The design and shape of most Nakiri knives are perfect for more traditional Japanese cuisine. During Japan's Edo era, it was against the law to eat any animal with four legs. This meant that vegetables, rice, and fish became staples of the nation's cuisine.
This makes Nakiri knives perfect for sashimi, sushi, and other Japanese dishes. They're also excellent for preparing vegetables. Just be ready to use an up-and-down hand motion instead of the west's rocking motion that's typical of most western chefs' knives.
Double Bevel
As opposed to the traditional kiritsuke knife's single-bevel design, most Nakiri blades are double-bevel sharpened. This makes them easier to predict for a western chef but results in slightly less sharpness and precision overall.
Nakiri Uses:
Intricate, thin cuts of food
Most Japanese dishes
Vegetable and general kitchen prep
Thicker cuts of soft meat (no bones)
Consistent slices that are achieved quickly
Nakiri Basic Stats:
Blades 5 – 7 inches long
Blades between 1.5 and 2.5 mm thick – double-edged
HRC of 59-62
Kiritsuke Knives vs Nakiri Knives – How They're Different
While a base level of skill is always necessary, sometimes all you need is to find the perfect tool for the job. With this in mind, which should you choose, a Kiritsuke knife or a Nakiri knife?
The headline here is that Kiritsuke knives are super sharp and are great for vegetables and cuts of fish (both long and short). However, they can be tough to handle for beginners.
Nakiri knives are probably better "all-rounder" knives, especially for more casual chefs. They're especially good for preparing traditional Japanese meals that involve slicing fish precisely and preparing lots of vegetables.
Length and Balance
Kiritsuke knives are much longer than Nakiri knives – 9.5 – 13 inches VS 5 – 7 inches. Keep this in mind when making your final decision.
Single or Double Double
If you prefer the sharpness and precision of a single-bevel knife, you might like to opt for a Kiritsuke if you've got the requisite experience. Want the versatility and familiarity of a double-bevel blade? A Nakiri knife is worth considering.
| | | |
| --- | --- | --- |
| Knife | Kiritsuke | Nakiri |
| Blade Length | 9.5 – 13 inches | 5 – 7 inches |
| Blade Thickness | 1 – 2 mm | 1.5-2.5 mm |
| Flexibility | None | None to some flex |
| HRC | 59 – 63 | 59 – 62 |
| Main Purpose | Long cuts of fish, vegetable prep | Japanese cuisine, general kitchen prep |
Kiritsuke Knives vs Nakiri Knives – Which One Should I Choose?
Want an easy-to-handle "all-rounder"? We say go for a Nakiri knife. Making long, super precise cuts into fish that require exceptional levels of sharpness? You might enjoy a Kiritsuke knife.
Kiritsuke Knife Recommendation
We are huge fans of this Kiritsuke knife:
– Mitsumoto Sakari 8-Inch Japanese Kiritsuke Chef Knife
The balance, overall performance, and lifetime warranty are all exceptional. Read more – best Kiritsuke knife.
Nakiri Knife Recommendation
We strongly recommend this Nakiri knife:
It's super well balanced and wicked sharp too.
Read more – best Nakiri knives.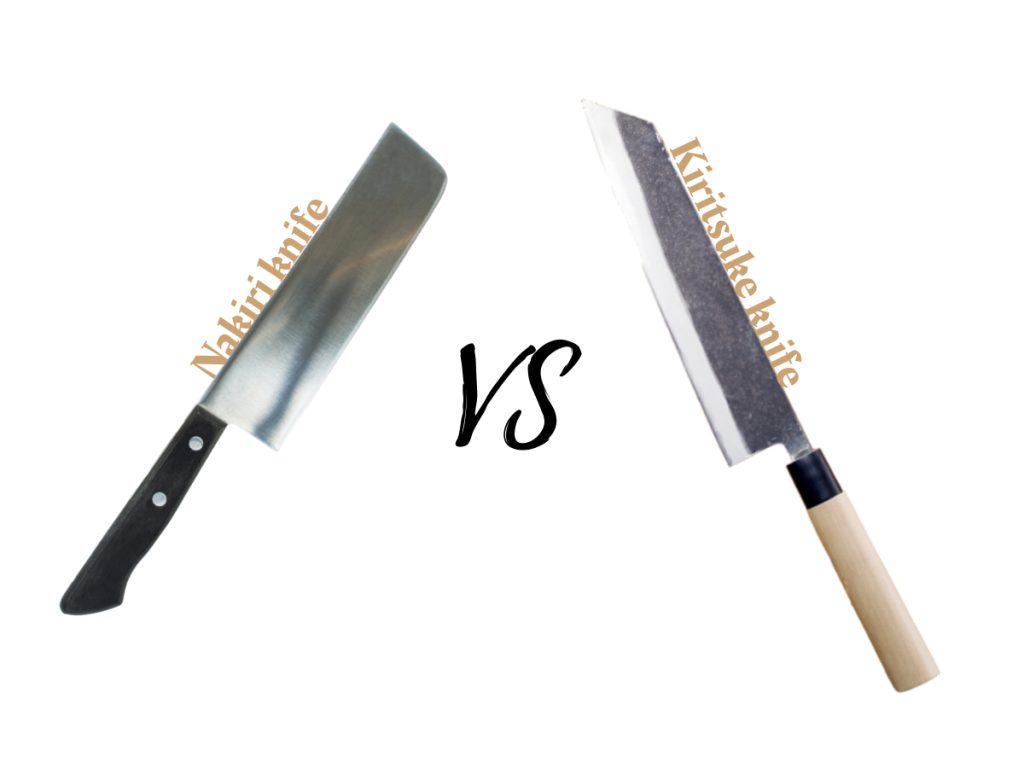 Final Thoughts
Whether you choose a Kiritsuke or a Nakiri, we hope it serves you well for many years to come!