Even the best quality kitchen knives will need a little attention to maintain their sharpness from time to time. You easily learn how to tell if a knife is sharp when it stops being as efficient with cutting, slicing, and mincing your ingredients in the kitchen. An electric or handheld knife sharpener makes this work so much easier. These are multi-slot sharpeners that include coarse, fine, or polishing stage operations without needing any specialized training or skill.
Is it Good to Sharpen a Knife with a Sharpener?
Yes and no. You will be able to transform a dull blade into a sharp one, but often by removing material to reform the edge. Other things to consider when using a knife sharpener include:
Electric Knife Sharpeners
Pros:
Incredibly efficient, often delivering results in as little as one to two minutes.
You do not have to worry about bending the metal or creating an irregular edge because the slots are fairly precise.
This is an easy-to-use tool that does not require a lot of experience with other sharpening methods.
Cons:
It works by reforming the edge and removing some of the material, which can slowly shorten the lifespan of your blade.
May take up a lot of space on your counter and have to be plugged in, which does not make them highly portable.
Often comes at a premium price point.
Handheld Knife Sharpeners
Pros:
Taller slot walls so you can keep the blade steady as you sharpen.
Easy to store away or carry with you when you cook at a different location.
Can work with a blade that has a full bolster.
Cons:
Cannot repair blades that have notches or cracks.
Like the electric version, this removes some of the material to sharpen the edge.
Requires a little hand-eye coordination.
Tools for the Job
Here are a few items you'll need to sharpen a knife with a sharpener:
The dull blades you wish to sharpen
The electric knife sharpener or handheld pull-through sharpener
An outlet rated for the device
A microfiber cloth to wipe away any tiny pieces after sharpening
A tomato, piece of paper, or other items to test the sharpness
Steps to Use the Electric Sharpener:
If you are using an electric or handheld/pull-through knife sharpener, the steps are pretty much the same, with the exception being any electrical needs.
Place the sharpener on your workstation and turn on the power.
Hold the knife by the handle in your dominant hand and place it in the coarse slot first, usually on the left-hand side if there a multiple slots.
Begin to pull the blade back toward you slowly (around 4-6 seconds), keeping continual and routine pressure on the blade as it moves. That includes when the knife tip reaches the end of the grinder, so the contour maintains a consistent pressure.
You will repeat the process about 5-7 times or until a burr has been raised along the edge.
Move over to the fine-grit slot (usually on the right) and repeat steps 2-4.
If your sharpener has a polish setting slot, you can use that here, or you can opt to remove the knife and polish it by hand with a microfiber cloth, so all the leftover debris is removed. Please be careful here, as these pieces can be sharp.
Clean with mild soap and warm water, and then dry thoroughly before replacing your kitchen knife in storage.
Steps to Use the Handheld Sharpener:
Place the sharpener on a flat workspace.
Hold the sharpener handle in your non-dominant hand, and be sure to maintain a solid grip.
Hold the knife by the handle with your dominant hand, making sure all fingers are behind the heel/bolster.
Start with the coarsest setting and insert the knife to the heel.
Draw the knife smoothly towards yourself over around 1-2 seconds. Be sure the lift the handle as you reach the tip for even contouring.
Repeat 3-5 until you get a raised burr on the edge, then switch to the fine grit slot and perform the same actions.
Clean the blade with a microfiber cloth to remove any materials, and then some soap and warm water before thoroughly drying for storage.
Best Handheld Sharpener for Knife Sharpening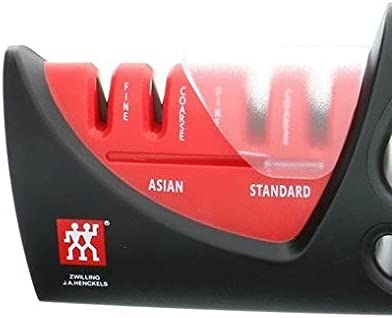 We wanted to be sure to include a handheld and electronic option for knife sharpening. The Zwilling 4-Stage Pull Through Knife Sharpener offers professional-grade capabilities for any blade in your kitchen, including standard and Asian-made knives. This German engineering 4-stage knife sharpener is exceptionally cost-effective and maintains a 4.5-4.7 star review out of more than 1,600 ratings. It is not electric, so you will need to maintain proper pressure by properly holding the sharpening in place, but otherwise delivers a premium experience that is worth checking out.
Best Electric Sharpener for Knife Sharpening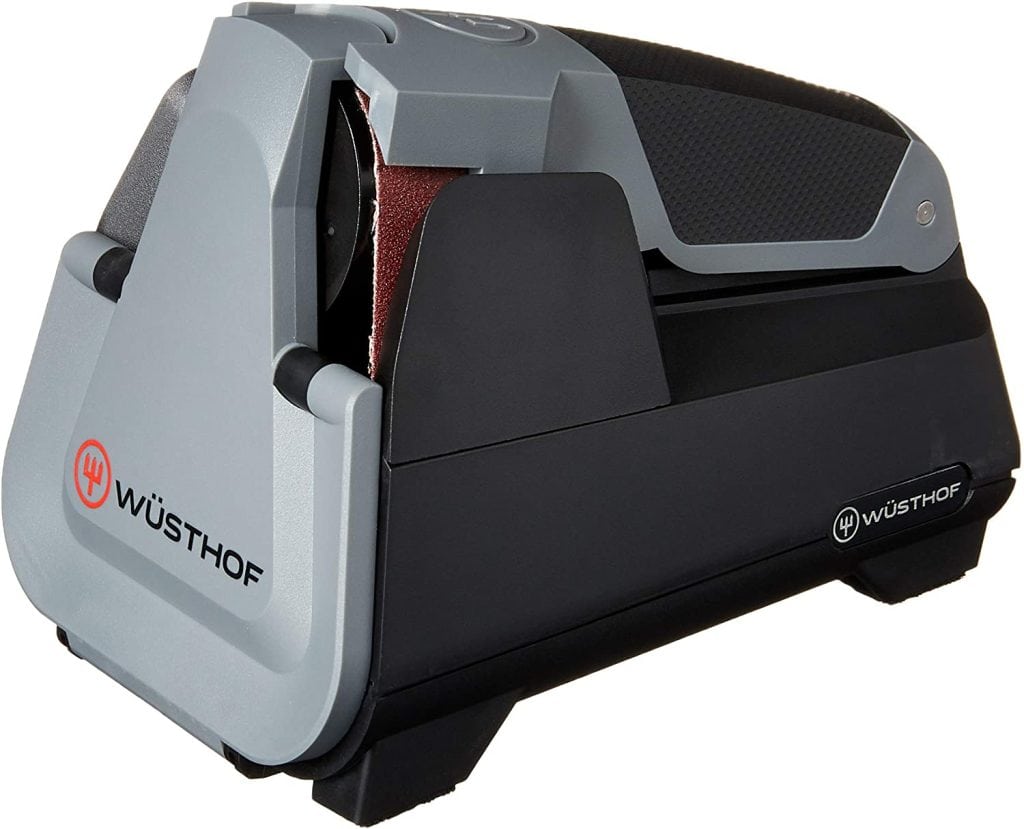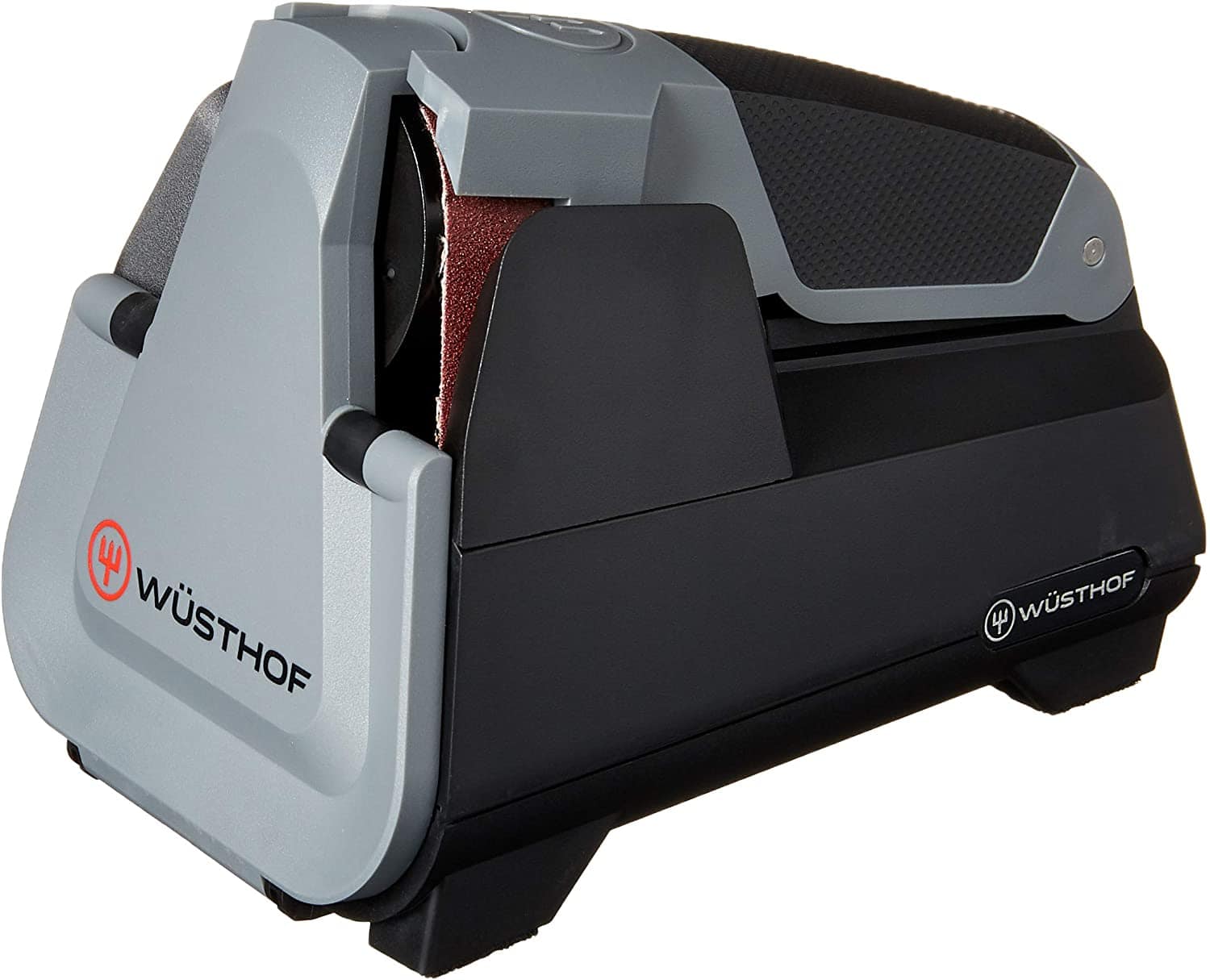 As for the electric options for keeping your dull blades nice and sharp, we suggest the Wusthof Easy Edge Electric Sharpener. While you are paying a bit more than the non-electric option and the device takes up a bit of space, you are also getting an easy-to-use solution that almost guarantees a sharp edge each and every time you use it. The Wusthof includes 3 sharpening stages and a 14-degree cutting edge that allows you to refine straight and serrated knives. The device is rated between 4.1-4.3 stars, most likely due to the price tag.
Alternative Tools for Sharpening a Knife
If you would rather avoid the multi-slot sharpening option, you can take advantage of some of the more common tools for sharpening your kitchen knives. This includes using sharpening stones, honing steels, or sharpening systems involving a clamp.
The best method we have found for a reliable edge that does not take away any of the materials from your blade is to use honing steel. While it may require a bit more experience and practice before perfecting, it maintains the lifespan of your blades better than other methods.
Conclusion
Keeping your knives sharp is essential to getting the most value out of them in the long run. You need a sharp blade to manage your ingredients in food preparation, cooking, and serving. It is a little hard to carve the Thanksgiving turkey if the blade does not slice through the juicy meat. Using an electric or handheld knife sharpener is a good way to ensure your equipment is ready to use whenever you need it next.