Slicing bread shouldn't be hard (pun intended). However, even a high-quality chef's knife can't do it as a simple serrated blade. Among the many types of kitchen knives, we have those specifically designed to cut through crust, doing it nice and clean. So, here's what you need to know about bread knives and how to choose the right one for you.
What is a bread (Serrated) knife?
Most loaves of bread have a crust. While the interior is (hopefully) very soft – the whole idea is to cut through the crust without squishing the inner part of the bread. Also, as the crust is hard and "fragile," we want to slice it as clean as possible, with fewer breadcrumbs as we can. To do so, we need a knife with a serrated blade to cut the outer part of the bread, but also a sharp one to curve through the inner part. That's the concept behind the serrated bread knife. As many kinds of food resemble bread in texture, such as cakes and some vegetables – the bread knife can be handy for cutting those too. However – if you try deboning a chicken or carving roast meat – you'll end up with very unsatisfying results.
Is a bread knife really necessary?
Well, yes. First – we're talking safety here. The right knife for the right job can save you cuts and injuries. Also, it is essential to prep your food correctly, and dedicated knives are like different types of pots and pans – each brings different results. Finally – if time is money, with a fine, serrated knife, you'll have a lot fewer breadcrumbs to clean (let alone the waste of food).
How to hold and use a bread knife?
To use a bread knife (or any other paring knife, for that) – you need to hold it with your dominant hand while your other hand holds the bread. Do it on a cutting board, placing the bread parallel to it. Grip the knife's handle firmly as your thumb gently presses your index finger. Now, cut the bread, sawing back and forth, putting some pressure on it. Do it easily without force or too much weight. Cut until the bread slice separates from the loaf.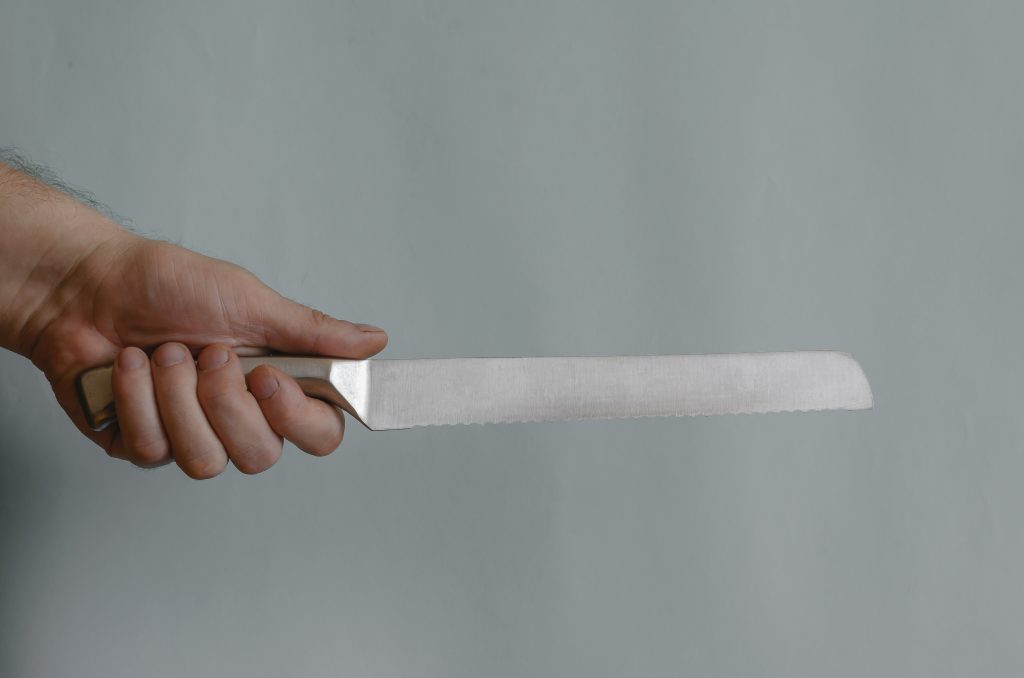 How to choose the best Bread (Serrated) knife for you?
We understand the general concept of the serrated bread knife. However, there are different preferences, sizes, shapes, and designs, and there are also personal differences and expectations that need to be met. To help you choose the best bread knife, we're bringing the main topics you should know and consider.
Price – How much should you spend on a bread (Serrated) knife?
Like many products, knives also have a wide range of prices that differ in quality, blade material, size, shape, tang, flexibility, design, and very note-worthy – the brand. On the far ends of the range, we can find price tags of 15$-150$, but most affordable and valued bread knives should cost between 30$-80$.
The Bread Knife's Blade
Aside from price, the different features of every blade impact the tasks, the ease of use, the results, and many more parameters.
Blade Shapes – What shape does a serrated (bread) knife have?
ENTER The key behind a bread knife's blade is its serration. When the serrated blade touches a loaf of bread, it creates the friction needed for gripping and slicing through. The sharpness, size, and distance between the serrated blade teeth are different in any design. And these differences translate into the purpose of the knife.
Serrated / Pointed Edge Bread Knife
The pointy edge is needed to penetrate the crust swiftly, preventing the blade from slipping down the round loaf. As the teeth are more extensive and broader, the cut will be more aggressive (but not necessarily swifter or cleaner). You can also pierce the bread loaf in the center using the pointed edge, allowing a different and more precise cut.
Pros:
Great for a precise cut
Safer to use when cutting hard layers
Cons:
If not used properly, it can break the crust
Scalloped / Curved / Wavy Edge Bread Knife
A wavy blade usually has smaller teeth and is more apart. That creates a wavy shape that enables longer cut moves and more gentle slicing. As the name suggests – the cutting may feel slightly rocky, which means more attention to safety. While not sharp as other edges, the scalloped edge may take more practice to use, but it cuts smoothly with little to no breadcrumbs.
Pros:
Cons:
Using the wavy blade may need more practice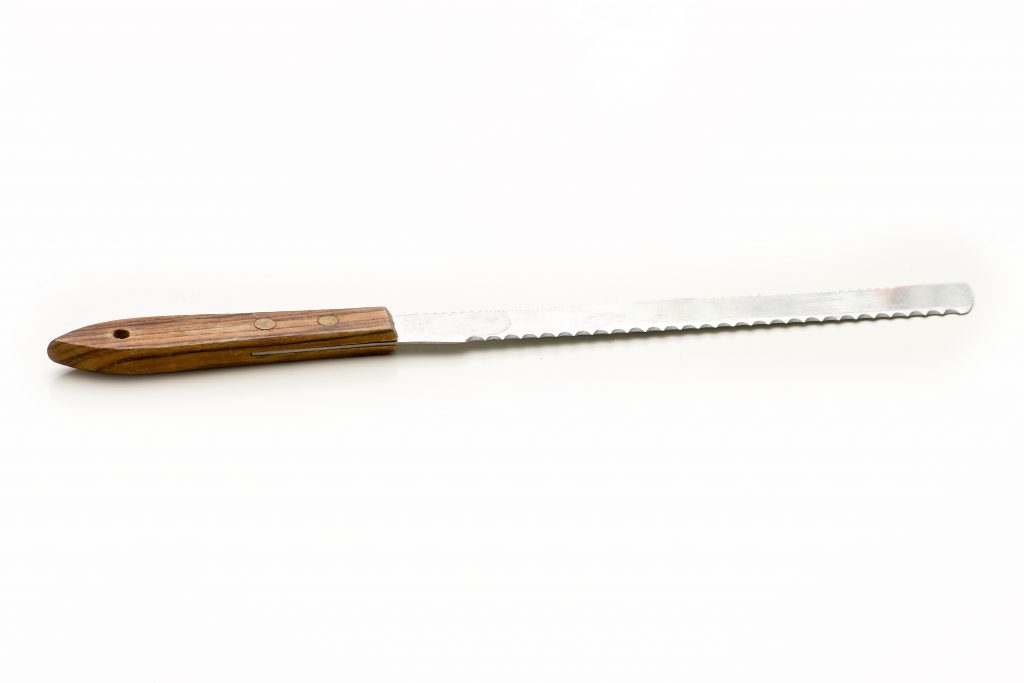 Blade Material – What material should a bread knife blade be made of?
Blade materials are aplenty. A solid, high-quality blade should be made of high-carbon stainless steel. Lower quality and cheap metals may end up with rust, dulling, and the edge might even break, leading to an injury. High carbon metal is a dense material that makes for a durable blade, making it stay sharper for longer. The stainless steel deters rust and corrosion. But it also means that it is less flexible. Quality also means value, and the better blade material – the more expensive knife.
Blade Length – What is the best length for a bread knife?
Slicing loaves of bread requires long moves as these loaves are pretty big, and there's plenty to cut through. That means the knife should be long enough to quickly move through the bread without exiting the borders. Most bread knives are 7 to 12 inches long, while we recommend a length of 10 inches for optimal use.
Blade Height/Width – How high/wide should the blade of a bread knife be?
When it comes to bread knife's height – there are no specific rules (do not confuse it with width, which refers to the blade's thickness). It is vital that the blade is high enough to support the bread as it cuts through and keep the knife balanced.
Blade Flexibility – Should a bread Knife have a flexible blade?
Opposing many other kitchen knives – the serrated bread blade should not be too flexible. It does not have to be too stiff, either, but as it cuts the outer and crustier layer -the inner part is fluffy and offers no resistance, so there's less worry that the knife will bounce when using it.
Blade Width/Thickness – How thick is a bread knife?
This part is significant. Along with the blade's sharpness, it determines how quick and precise the cutting will be. It needs some thickness as we're not performing surgery, but it may lead to poor results, making the blade harder to use if it is too thick. It is suggested that the blade's thickness should be no more than 2.2 mm.
Tang for a bread knife
The tang is the part of the blade that merges with the knife's handle. If it extends to the handle's end – it's called a full tang knife, and it's the more robust and more valued option. If it doesn't go all the way – it's a partial tang. A full tang, as mentioned – is better and firmer, and more balanced, but it also makes a big difference in product costs. There's no rule about it, but it will always be preferable if you can afford a full-tang bread knife.
HRC for a bread knife
HRC stands for Rockwell Hardness Rating. It relates to the hardness and strength of different materials, allowing measurement and comparison. The higher the rating number, the more potent the blade is when it comes to bread knives. A good quality blade starts at 50°, while we recommend blades with at least 60° for bread knives.
Forged or Stamped – Is a forged bread knife better than stamped?
As the name suggests, a forged knife is a single unit, made of one metal bar, shaped in one comprehensive process. It usually weighs more and gives better retention than the stamped knife, which its blade is cut out of a metal sheet than attached to the handle. Another significant difference is the price: stamped knives are generally cheaper. That doesn't mean the quality is poor, just a bit lower than the forged knives. So, it's totally up to your budget.
The Bread Knife Handle
Most people consider the knife's blade the most critical part of the knife, but its handle importance is no less, as it affects comfortability, balance, and safety. When using it for long periods and heavy-duty – you should not settle on comfortability. There are many shapes, materials, and designs for knife handles, and each offers different advantages. The handle is usually built from scales, which wrap the knife's tang. These are secured to the tang with rivets. The end of the handle is the butt, and it also comes in many designs for different purposes. The bolster is where the blade and the handle meet. It adds durability and balance and impacts the protection of the fingers.
When purchasing a bread knife – these are the things you should consider regarding the handle:
Size – the knife should fit perfectly in your hand. A too-long handle will leave room for losing grip and balance, and a short one will be uncomfortable and dangerous.
Material – plastic, wood, stainless steel, or composite – make sure the handle is firm and feels solid in your hand. Choose a non-slip handle, and know that wood handles often cost more and need more maintenance.
Shape and design – always pay attention to the bolster, seeing it's not exposing your hand to harm, see if the handle is straight or has an ergonomic design to it. Hold the knife for a couple of minutes in your hand and make some cutting moves (carefully). See that it feels firm in your hand without any pains at the wrist joint.
Balance – What's the right balance for a bread (serrated) knife?
Knife balance is essential for both comfortability and efficiency. When slicing bread, you'll want to do it as efficiently and safely. A well-balanced knife will help you perform flawless cuts without struggling with the bread or putting too much pressure on it.
In general, knives usually have a balance point at the bolster area. To check a knife balance, gently place it with the bolster on your index finger and try to balance it. When carving meats, the knife can lean towards the blade. When cutting bread and veggies, it can count towards the handle.
Maintenance and Care – How to maintain a serrated (bread) Knife?
A good and solid bread knife should last a very long time. But it also needs to be taken care of, cleaned, and maintained to keep it sharp and safe to use.
Learn how to remove rust from a knife blade and how to protect your kitchen knife from rusting.
How to clean a bread (serrated) knife?
There are many different handle materials, but the bread knife's blade will be stainless steel. To keep it clean – simply hand wash it with warm water and some utensil soap, and then dry it with a dry cloth. Do it right after the use of the knife. If something sticks to the blade or the handle – put some pressure on it with a wet cloth but do it carefully. As stated before – wooden handles are more sensitive to water, so you should use a soft soapy cloth, then handwash them in running water, dry them as fast with a cloth and let them hang in the open air for some time. DO NOT LEAVE KNIVES WITH WOODEN HANDLES IN WATER, as it permanently damages them.
Are bread knives dishwashers safe?
Not all bread knives are dishwasher safe, and if it is of importance to you – you should always check the specs of a knife before purchasing it. We always recommend handwashing over dishwashers when it comes to cutlery. However, if you plan on using your dishwasher – just validate it before placing your bread knife in it.
Honing & sharpening your knife – should serrated (bread) knives be sharpened and how?
Good quality Serrated bread knives are made of high carbon steel and should not dull quickly. In general – if used for its correct purpose – the bread knife shouldn't dull at all. But if cutting other ingredients or using the knife wrong on the cutting board – the blade can wear off. If your bread knife needs sharpening, you can do it with a round steel honing. Remember to slide the knife gently, with long moves, while focusing on each serration separately.
Read now >> Sharpness test
How to store a bread Knife?
The basic rule is to store the knives in a dry place, separated from other utensils, where they don't get scratched and dented. Nowadays, a standard method is to hang them on a wall-mounted magnetic strip or in separate drawers. Do not place the knives there if they are wet or dirty. Some of the bread knives come with a dedicated knife wrap as part of the package. If so – that's the best way to store it.
The best and most reliable bread knife brands
Most brands do not get their names from good marketing but from good quality and a history of success, experience, and improvement. Centuries ago, blacksmiths made a name for themselves, and now it's the different companies worldwide that work hard for the names. That means a reliable brand will be renowned, recommended, and familiar, suggesting you buy your knife from a good manufacturer.
Here are some reliable bread knife brands:
Mercer Culinary – American brand, mainly manufacturing forged knives of high carbon stainless steel, aiming for a mid-range budget.


TUO – high carbon German steel and Pakkawood handles make this brand an ace for quality and design. A bit on the pricy side.


Victorinox – the famed Swiss brand is well valued, making great quality blades and knives, bread knives among them.


Henckels International – mostly known for their stamped bread knives and are very common in the American market. Usually priced to meet lower budget, but remains a solid, reliable brand.


Dalstrong – a high-end brand offering top-quality knives. The endless effort put into the design, the materials of each knife, and the price tag show it all.


Shun – an excellent Japanese brand that manufactures razor-sharp blades at a reasonable price. Due to their sharpness, the knives are often considered for pros and less for amateur cooks.


Global – another Japanese brand, yet this time it is well recommended for beginners.


Imarku – a Chinese manufacturer, focusing on very light knives with comfortable handles, with mid to low range prices.


Conclusion
At first, people underestimate the knowledge, experience, and science behind a simple bread knife. It might seem overwhelming now, but these are only the basics. Choosing a good bread knife shouldn't be a difficult chore, but you also need to understand what you put your money on and the right bread knife for you. While every one of us has different needs and preferences, we'll find other knives to our likings. Still, if it's the two most important things you need to remember when considering a bread knife – don't ever settle on safety, and always look for something within your budget limits. We're sure you'll find a great bread knife and enjoy it.