Allowing children to help out in the kitchen is one of the most natural ways to foster independence and responsibility. Cooking with adults teaches kids essential safety habits, sparks an interest in various foods, and boosts overall development. Protecting the kitchen for children is the first step in keeping the little ones safe while cooking with adults.
There are many ways to childproof your kitchen and make cooking with kids fun, educational, and safe.
The golden rule is to adapt cooking activities to your children's ages and the size and shape of your kitchen. However, there is a lot to consider when childproofing your kitchen. For example, use the back burners on your stove whenever possible, use cabinet lockers, keep knives and other sharp tools out of reach, and protect sharp edges and corners as a general safety precaution.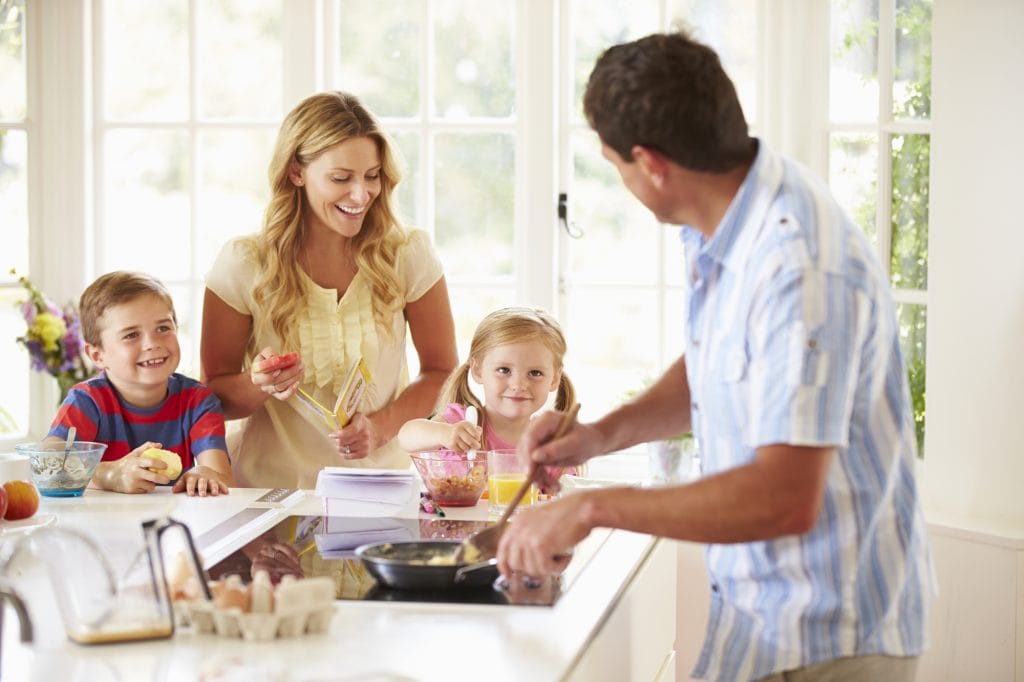 Why you should Keep Your Kitchen Safe for Children?
Various kitchen utensils can accidentally injure children of all ages. According to studies, over 67,000 children in the United Kingdom experience a kitchen mishap annually. More than half of these youngsters are under the age of four.
In many homes, the kitchen is the center of life in the house. Cooking at home encourages healthy eating options and promotes valuable life skills. We don't want to keep our children away from the kitchen and discourage them from using it regularly later in life, so it's critical that they feel safe walking around it.
When and How Can Children Be Allowed to Use the Kitchen Safely?
By ensuring your kitchen is protected from children, you can safely integrate the little ones into cooking and other kitchen activities. You can let children walk around the kitchen from the earliest age. If the space is childproof, there is no reason to keep your toddler away from the kitchen.
Begin introducing kitchen chores to your child as early as possible by teaching them how to stir, pour, and add ingredients. Also, provide kid-safe knives first to help older children manage sharp cutlery. Attach all freestanding shelves to the wall, install locks on the bottom cupboards, and safeguard the stove, oven, and other appliances.
Be a good role model in the kitchen and keep an eye on your child when they are cooking.
What Should Be Childproofed, and How?
The kitchen is an attractive environment for young children. They are naturally interested in manipulating kitchen utensils, exploring food, and observing and participating in cooking and baking activities.
Because of their natural curiosity and all this commotion, it is essential to protect the kitchen for your children. Here are some examples of how you can childproof the kitchen to protect your kids from potential kitchen hazards.
Childproof Stove – Childproof Stove Knobs
Never leave the stove unattended while children are in the kitchen.
Remove knobs or use stove knob covers to prevent kids from gripping them.
Ensure the stove, burners, and oven are in good working order.
Keep flammable objects away from the stove.
Discard all pots and pans with loose handles.
Childproof Trash Can
Use a child-resistant trash can.
Store your garbage can out of sight.
Keep it behind a closed door in a locked cabinet.
Discard plastic bags safely by tying them in a knot before disposing of them in the trash.
Childproof Ovens and Oven Locks
Always turn the oven off when you are not using it.
Get an oven lock to prevent children from pulling the door down.
When your oven is roasting, make sure the outside is only warm, not hot.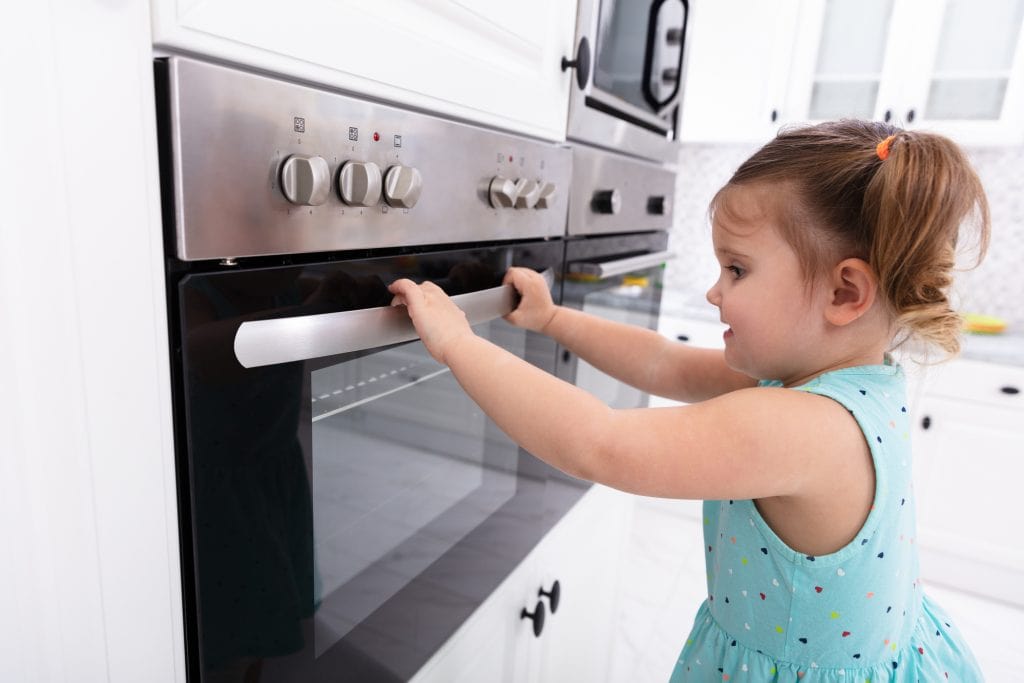 Childproof Dishwasher
Make sure to turn knives, and sharp utensils pointed downwards in the dishwasher.
Remove sharp utensils from the dishwasher as soon as they are washed.
Remove glassware from the dishwasher as soon as it is washed.
Use a babyproof appliance latch to prevent kids from opening the dishwasher.
Knives Stand/Block/Magnet
Child Lock for Fridge/Refrigerator Lock
Use a multi-function fridge lock for the refrigerator and freezer.
Place babyproofing door latches.
Make sure to keep glass bottles and jars off the easily accessible shelves.
Remove colored fridge magnets to prevent a choking hazard.
Child Proof Water Dispenser
Set up, childproof dispenser guards.
Buy a childproof water cooler.
Store the dispenser out of reach (e.g., behind the baby gate).
Corners and Edges
Install protective guards on the table and countertop edges.
Childproofing Drawers and Cabinets
Get the dangerous items out.
Secure all handles and knobs.
Use latch locks.
Use magnetic laches.
Install the corner cabinet lock.
How Can the Kitchen Be Protected Cheaply but Effectively?
Not everyone has the same kitchen childproofing budget. However, some low-cost strategies keep children safe in the kitchen. Here are some DIY ideas:
Always keep your kitchen clean and organized.
Always supervise kids while cooking.
Keep food preparation areas clean.
Use kid-safe kitchen utensils.
Seal-off electrical outlets with safety plugs.
Install safety latches on appliances, drawers, and cabinets.
Keep the floor clean and skid-proof.