Pakkawood is a popular wood choice for kitchen knives. It is a wood and resin composite that is carefully manufactured to increase the grip capabilities and durability of the handle. This reduces potential accidents.
Many brands choose to make their blades with Pakkawood handles because they are resistant to extreme heat and exposure to frequent moisture. This is ideal in a kitchen where you work with many ingredients and need to rinse your knife between preparation sessions.
If you're looking for a beautiful knife handle material similar to natural wood in look and feel, then Pakkawood is an excellent choice. In addition to being easy on the eyes, Pakkawood has a naturally warm appearance and smooth texture.
Where Does Pakkawood Come From?
Unlike other woods, Pakkawood is made of layered veneers. The layering method was initially perfected in 14th century Egypt and has since been improved for modern manufacturing.
You can now find a Pakkawood handle on the most popular knives from recognizable brands when shopping online or in stores.
Why is Pakkawood Good for Kitchen Knives?
Pakkawood is made of a combination of wood and resin. The layers are bonded together in sheets and then cut at different angles to create the grain that makes the material so distinctive. Because the wood is layered on top of plastic or resin, it's much less likely to split.
The material is soft enough to feel good in your hand while still having the durability you need to last longer than cheaply made knives. Pakkawood is also popular in Japanese and Asian cuisine because there is a lot of seafood preparation and fresh vegetables that often have moisture on them. You can cut right up against it with confidence, knowing that it won't splinter off into tiny pieces when doing so, unlike other natural woods.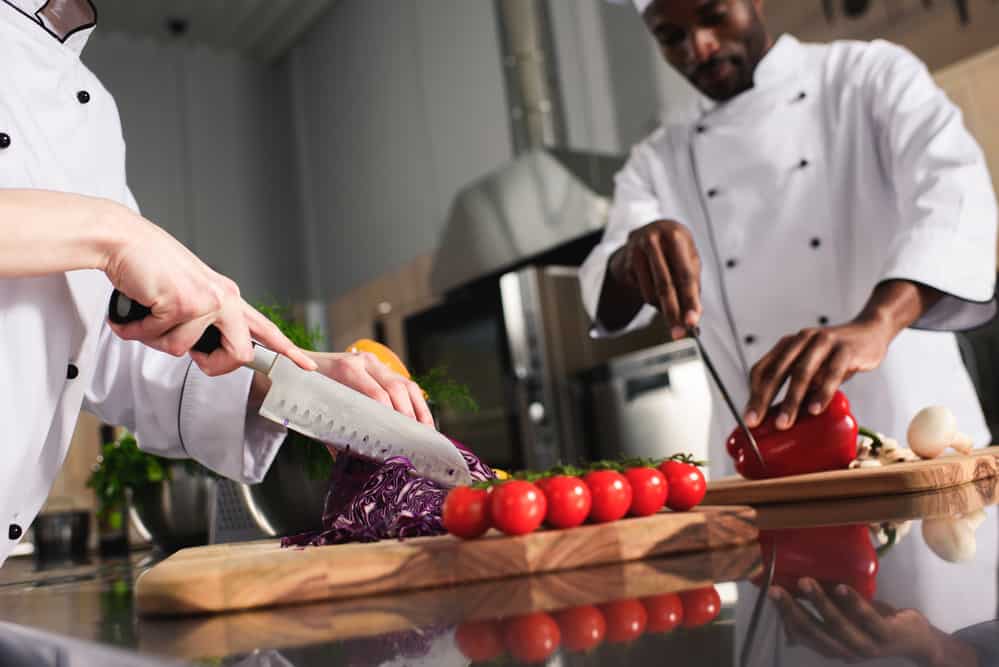 How is Pakkawood Manufactured?
The first layer of the Pakkawood is the core layer. This is what gives the product its shape. The second layer consists of dyed veneer, usually in a black or brown color. Manufacturers can use more than one color veneer because there's no grain pattern to worry about matching between layers.
The manufacturing process of layering gives it a harder, more impervious surface than natural wood, which makes it more durable.
How are the Patterns Made?
You can usually tell the layers of material apart by looking at the grain on the surface. The pattern on the handle is created by cutting the layers of wood at different angles. The grain can be made in several interesting shapes, including stripes and waves. Some manufacturers offer customization options to allow you to choose how the grain will look in your knife handle.
Can You Customize Pakkawood?
When you decide to purchase a knife with a Pakkawood handle, here are some ways you can customize your order.
Depending on the manufacturer, you could personalize the:
Color – You can choose from any color of the rainbow.

Grain pattern – The grain pattern of the Pakkawood material is unique. Some manufacturers like to create a particular pattern just for their brand. Others will let you choose what pattern you want on your knife handle.

Shape/Size – Knife manufacturers will likely offer different sizes. Keep in mind that if you plan to use this knife at work, a larger size might be better because it will be easier to grip when your hands are wet or covered in food residue. If you just intend to use the knife at home, or if you have small hands, though, a smaller size might work best.

Indentations – You can usually also choose whether there's an indentation on one side of the handle at the bolster. This indentation allows for better gripping and reduces slipping while using these tools but may not always be necessary, depending on how often they're used.
Benefits of Pakkawood layering include:
Less porous than natural wood
Does not absorb moisture
Greater resistance to heat
Easy to maintain
Attractive design
Improves grip
Can be molded to ergonomic design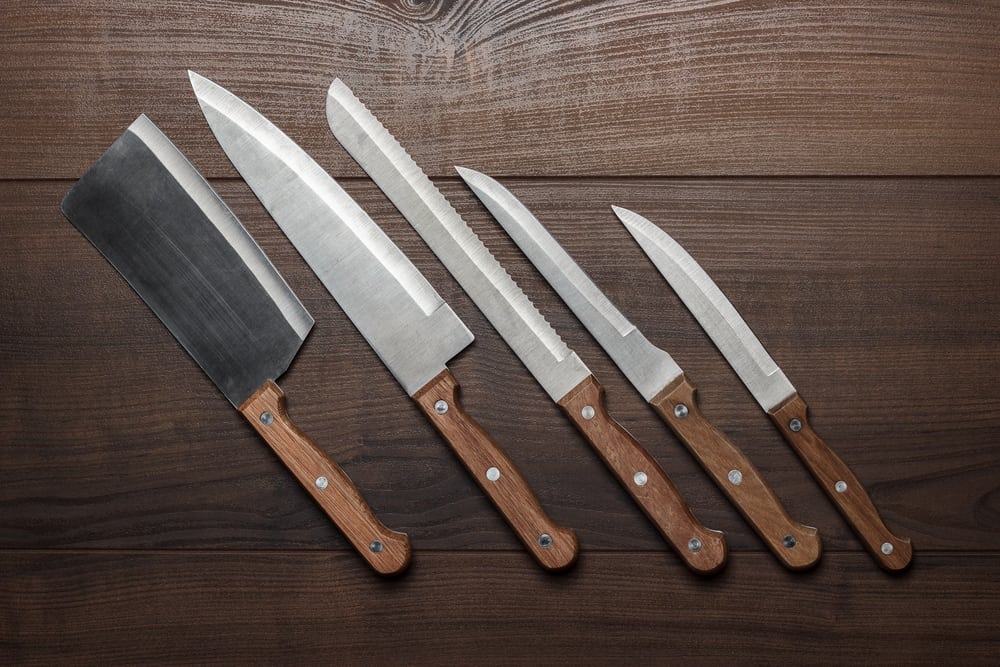 Is Pakkawood Dishwasher Safe?
No. Even though Pakkawood holds up better than other materials in moisture, it is not meant to be exposed to the harsh cleaners and temperatures of a dishwasher. The veneer could get damaged inside of a dishwasher.
How to Take Care of Pakkawood?
Luckily Pakkawood is easy to maintain. Use a bit of soap and warm water to rinse away any food material, then completely dry off before safely storing. You can use mineral oil with a soft close to polishing it if it looks a bit faded.
Why is Pakkawood Popular with Chefs?
The material is so popular among chefs in part due to its durability, as well as the way it looks. If you're looking for a knife that can take a beating, Pakkawood is a good choice. The material is also very visually appealing. Knives with handles made out of this material tend to look more elegant and sophisticated than those made out of other materials.
Even if you're not a professional chef, Pakkawood still offers many benefits for home cooks. The material's visual appeal makes it an ideal choice for a kitchen knife that will be on display in your home. If you would like to add the sophistication of Pakkawood to your knives, be sure to read through the many buying guides and top lists of knives available from Knives Academy. We often make recommendations for blades with Pakkawood handles. It offers a wonderful feel and grip to any kitchen knife.