Dragon fruit, sometimes called pitaya, can be a bit of a challenge cutting up into delicious pieces for your guests or a fresh smoothie. This is especially true if you do not have the right tools at your disposal to ensure it is safely sliced apart. Even though the exterior of this fruit looks hardy, we have developed a reliable method for cutting it up quickly.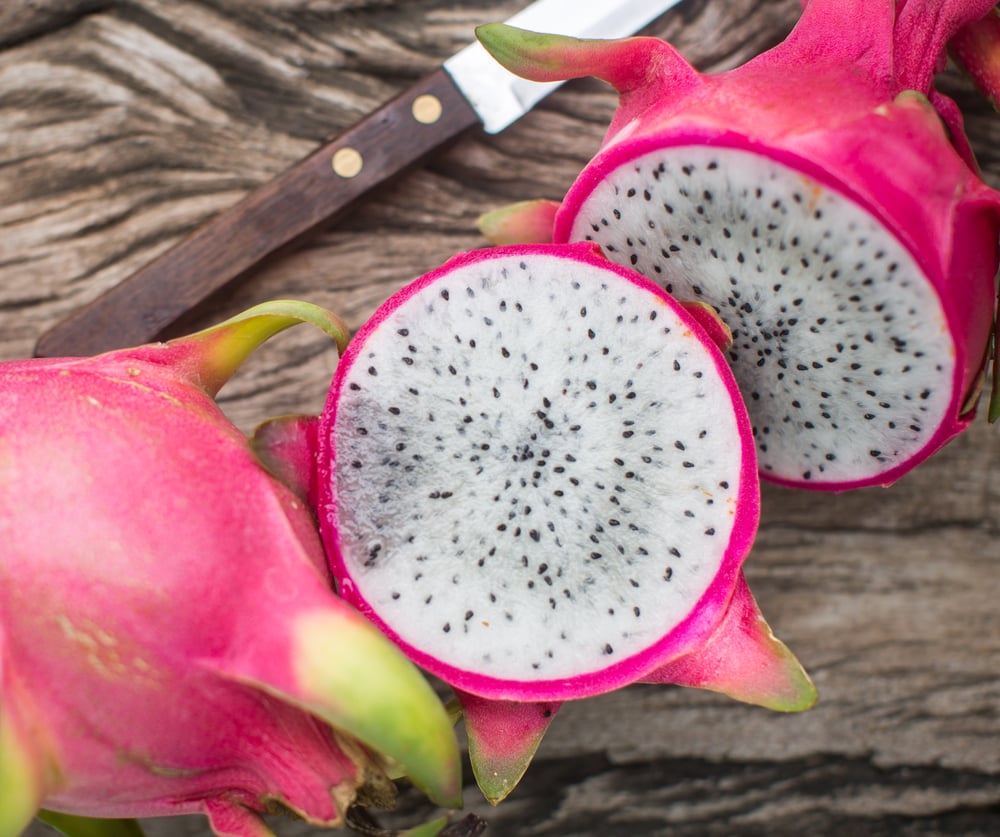 What is Dragon Fruit?
Dragon fruit has bright magenta skin and green leaves that make it look similar to a mythical dragon. It is technically part of the cactus family and a delicious fruit used in many dishes or by itself. Once you get past the prickly leaves, you get a mouthwatering inner fruit with tiny black seeds.
What is the Best Knife to Cut Dragon Fruit?
Almost any sharp enough blade will do the job of cutting through dragon fruit, but you want something that is long enough to deal with the whole fruit at once. We suggest using a chef's knife for the more significant cuts and then a paring knife for more detailed cuts if you want an aesthetic presentation.
Tools to Cut Dragon Fruit
Dragon fruit
Cutting board
Chef's knife/paring knife
Honing steel (optional)
Gloves (optional)
Washcloth for cleanup
Steps for Cutting Dragon Fruit
Step 1: Place the dragon fruit in the center of your cutting board and hold one side as you slide through the fruit lengthwise with even sides. We recommend from the stem first to the bottom.
Step 2: Remove the skin by scooping out the soft fruit with a large spoon or using your fingers to peel away the skin from the fruit like an avocado. It is best to do the second option after cutting the fruit into quarters.
Step 3: Cut the dragon fruit into the size of smaller pieces you need for your meals. This can be done in slices by placing the fruit face down on the cutting board, ½ cubes with a paring knife, or using a melon baler to scoop out spheres.
Step 4: Dispose of the skin in a compost or trash bin and clean up the juices using a washcloth. Be sure to wipe your blades as well.
How to Store Dragon Fruit
You store dragon fruit at room temp until it is ripe. Once you cut into the fruit, place it in a sealable plastic bag in the fridge, where it can last for up to a week.
After you have cut your dragon fruit, pay close attention to your knives. You do not want to leave any residue on the blades that can make them sticky the next time you want to use them.
The Knives We Suggest for Cutting Dragon Fruit
At Knives Academy, we suggest using two different knives to get quality cuts with your dragon fruit. The first is the Wusthof Classic 8" Chef's Knife. Having a sharp knife that is at least eight inches long ensures you get those longer cuts to half and quarter the dragon fruit before choosing what method you want for smaller pieces. With the Wusthof, you get an easy-to-grip bolster and versatile blade shape to work around the fruit efficiently.
For those more refined cuts like cubing or creating thin strips for dessert toppings, we suggest going with the Henckels 4" Paring Knife. This is a forged paring knife with German engineering and the durability you want for versatile utility. The handle is long enough with a solid grip to allow you to get into the harder-to-reach curves of the dragon fruit as well.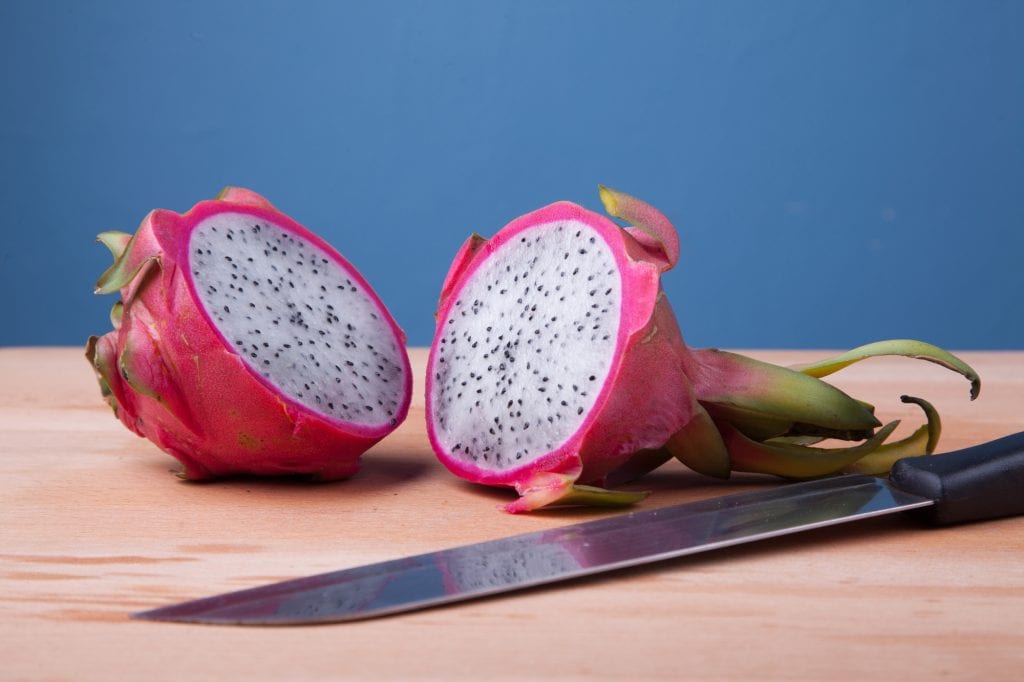 Knife Skills Needed
Many new chefs or home users get a little intimidated by dragon fruit because it is so exotic in places like the US, UK, and Europe. However, once you get that initial half cut of the fruit, you'll quickly learn it takes little expertise to get the cuts you want. The best knife skills for this task will be a smooth draw for the lengthwise cut and if you need to cube the interior fruit.
Conclusion
Dragon fruit makes an excellent addition to a fruit smoothie, grilled chicken salsa, or charcuterie board. With a bit of patience and courage, you can learn how to cut dragon fruit using a quality-made chef's knife and paring knife like our suggested products mentioned above. Good luck, and we hope you enjoy this delicious exotic fruit!