Whether your collection is reaching capacity already or is just in its fledgling stages, a good cleaver is likely to be a welcome new addition. When researching online, there are a number of different options to peruse. On this page, we'll be discussing the various types of cleavers out there.
We'll cover the two main cleaver categories and discuss some specific examples within them. Read on to find the option that's best for you.
What is a Cleaver? Main Uses Explained
So, what exactly is a cleaver? To answer this question, we need to establish the two main types of cleaver – meat cleavers and vegetable cleavers. The names for these knives are fairly self-explanatory. We outline their main uses below.
In short, a cleaver is a kitchen knife with a broad, heavier-than-average blade that's used for a variety of kitchen tasks. Meat cleavers are used as butchering tools for meat and vegetable cleavers and excellent prep knives for most vegetarian dishes.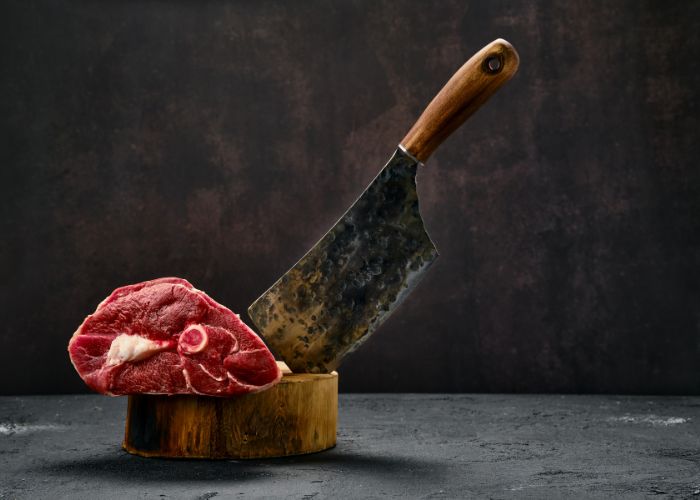 Meat Cleavers are Typically Used for:
Cutting through thick cuts of meat.
Cutting soft or slightly hard bones.
Dicing and pounding meat and other foods.
Some general kitchen prep.
Most butchering tasks.
Many general kitchen tasks.
Vegetable Cleavers are Typically Used for:
General vegetable prep.
Mincing, dicing, crushing, slicing vegetables and similar foods.
Tasks that require a lighter knife.
Slicing through thick cabbages and similar veggies.
Tasks that require a thinner blade.
The Types of Cleavers – The Details
Before running out and buying the first product you find that describes itself as a "cleaver," it's worth learning a little more about what sets each type of cleaver apart. We explore this in more detail below.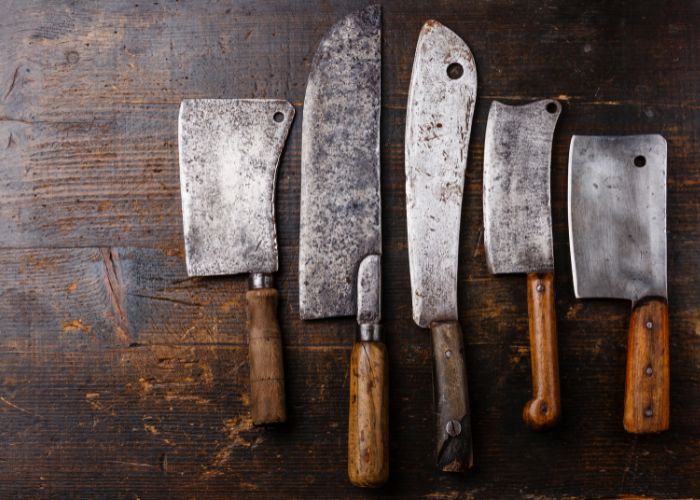 Meat Cleavers
Loved by butchers, home cooks, and pros everywhere, meat cleavers are excellent butchering tools. Their broad blades look similar to that of vegetable cleavers at first glance. However, their thickness and overall weight tend to be significantly higher.
This allows them to more easily cut through denser meats and soft bones. As a result, the sharpness on offer here can be less than what's available with vegetable cleavers.
Vegetable Cleavers
With thinner, lighter blades, vegetable cleavers are amazing for a ton of different kitchen tasks. Everything from dicing an onion to making light work of that stubborn red cabbage can all be achieved very easily with this type of knife.
Collectors and cooks love vegetable cleavers for their exceptional sharpness and comfort in the hand.
Chinese Cleavers
You may have seen "Chinese cleavers" discussed online. While these knives can be phenomenal in their own right, they're not the same as a typical butcher's cleaver. They're essentially a type of vegetable cleaver/ general purpose kitchen knife.
They're brilliant for handling your general kitchen prep in record time.
Japanese Cleavers
While we're on the subject, Japanese cleavers are based on the trusty Chinese cleaver, but they use Japanese materials and forging methods. The result is a knife that many users absolutely swear by.
As with their Chinese counterparts, these types of cleavers are best used for vegetables and general prep work, not butchering meats.
Our Favorite Meat Cleaver
Our absolute favorite meat cleaver is this one:
– DALSTRONG Cleaver Knife – Phantom Series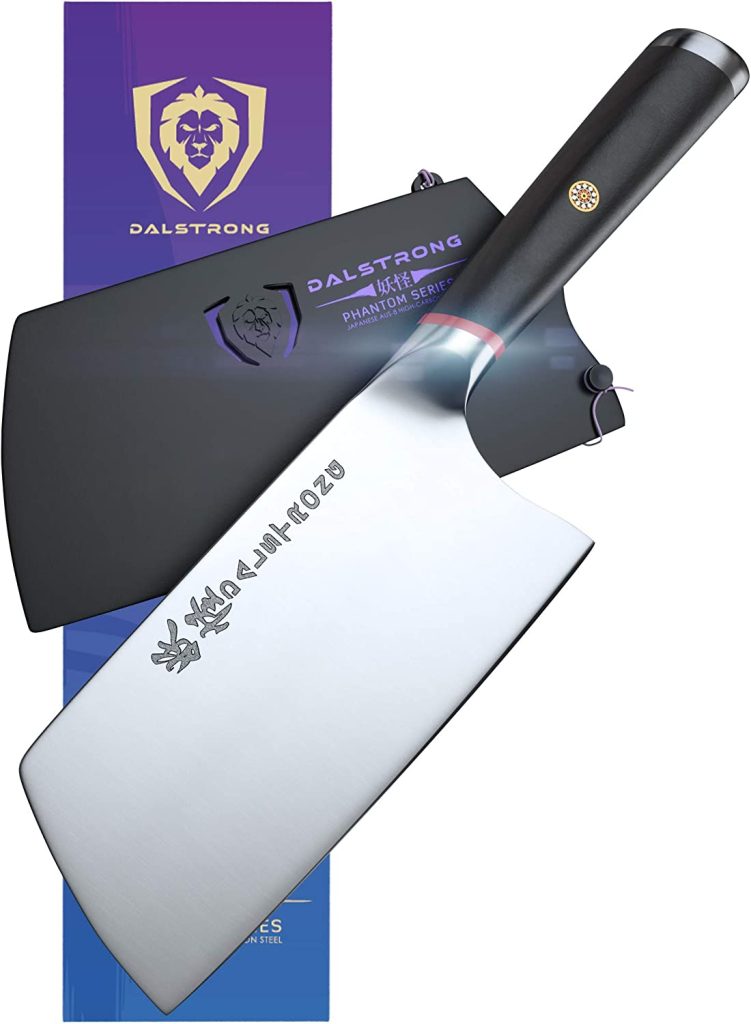 Check Latest Price
Manufacturer's Price
It offers incredible sharpness and a price-to-performance ratio that's tough to argue with.
Our Favorite Vegetable Cleaver
For our money, the best vegetable cleaver out there right now is this one:
– Tuo Vegetable Chinese Cleaver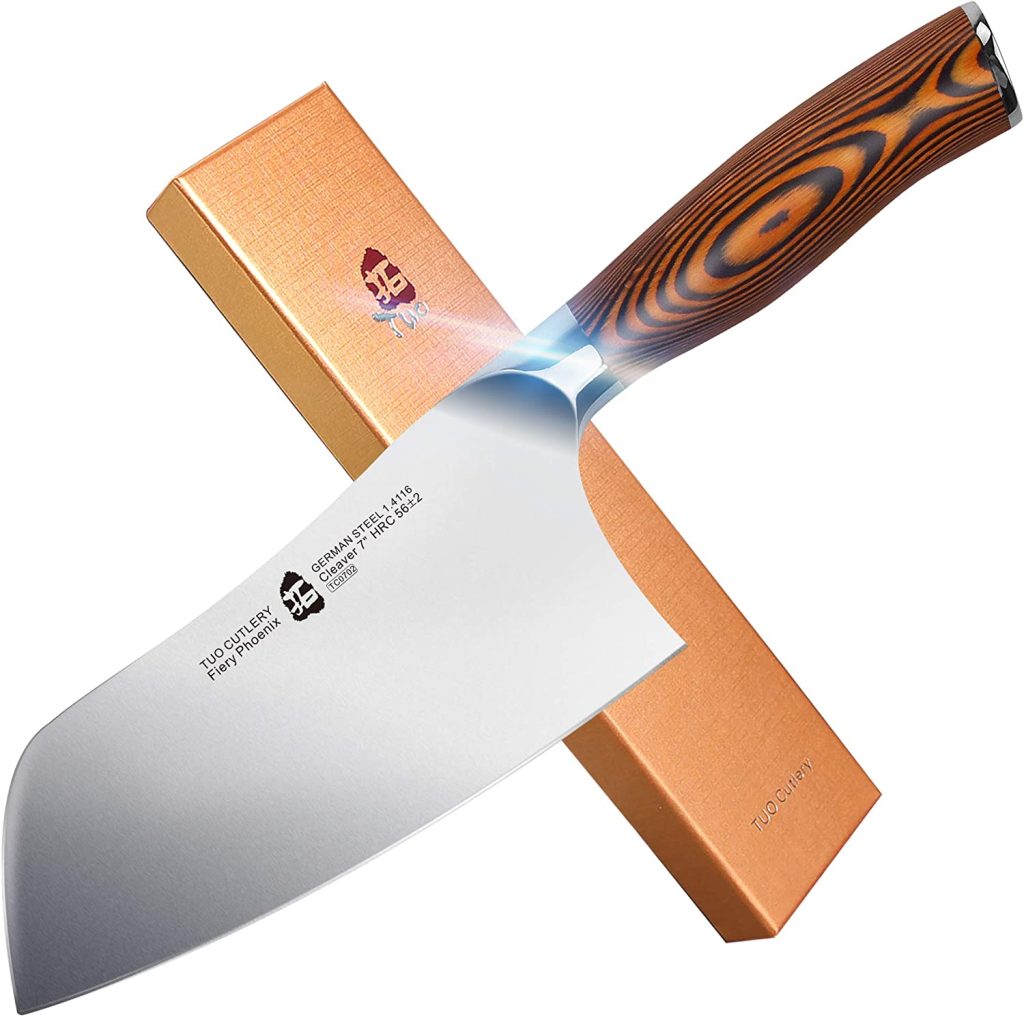 Check Latest Price
It feels amazing in the hand and is surprisingly affordable.
Types of Cleavers – FAQ
We clear up some common questions about the types of cleavers in this section.
What is a Chinese Cleaver Called?
"菜刀" or "cài dāo" is the Mandarin name for chinese cleavers which translates as "kitchen knife" or "slicer". Vegetable cleaver is another colloquial term.
What is a Japanese Cleaver Called?
"中華包丁" or "Chūkabōchō" is the Japanese name for Japanese cleavers. The term translates as "Chinese kitchen knife," pointing to the strong Chinese influence on this type of cleaver.
What Cleaver do Butchers Use?
Butchers typically use a premium meat cleaver made from high-carbon steel or similarly durable materials. The specific design and brand will come down to the butcher in question.
Types of Cleavers – Conclusion
We hope you've found the information above useful. To conclude, there are two main types of cleavers – vegetable cleavers and meat cleavers. Chinese cleavers are a type of vegetable cleaver and Japanese cleavers are a version of Chinese cleavers that use Japanese materials and forging methods.