Your kitchen knives are an investment. They represent years of beautifully crafted meals and fond memories of enjoying carefully prepared food for your friends and family. Knowing how to safely transport your kitchen knives from one location to another is essential to their care and maintenance. Whether you plan to move to a new home or take a short trip with the family, we answer the crucial questions about packing knives.
Why Learn How to Pack Knives?
Packing kitchen knives can be dangerous. You want to protect the blades from damage in transit just as much as guarding anyone lifting them up from potential cuts or accidental damage. This is especially true for pets and children who may be around as you move. Keeping your knives well packed during a move or trip is essential to ensuring everyone's safety.
How to Safely Pack Knives Needed Equipment:
Depending on the duration and distance of your journey, you will probably need the following to safely pack your knives away:
Any original sheaths
A knife block or storage compartment
Packing/Chef paper
Packing tape
Bubble wrap
Old rags
Small boxes or cardboard pieces
How to Pack Knives for Moving?
The key to safely packing your knives for a move is preparation. Start by cleaning any residue on your blades and then drying them off completely. This way, your knives are in good working order, and you'll be better equipped to see if any damage occurred in transit. Next:
Group your knives into similar sizes and purposes.
Lay out a piece of packing/chef paper and gently place each group of knives in the center.
Fold the paper entirely over, then carefully roll each blade into the group's next.
Secure the roll with packing tape and enclose it in bubble wrap.
Place the knives into a suitably sized moving box.
Optional: wrap an old rag or t-shirt around it for added protection.
Label the box with the direction of the blades and the type of knives inside.
How to Pack Kitchen Knives in a Block?
If you have a knife set with a wood or plastic block, you can still get it safely moved from one location to another. This is especially helpful for knife sets that you want to group together and get some space-saving benefits.
Use packing tape to secure the different knives into the bock. Be sure to use different angles so there is no chance the knives will fall out.
Place the wrapped block with knives inside on packing paper and roll it up.
Enclose the entire block in bubble wrap.
Optional: add a layer of an old rag or t-shirt for extra protection.
Place the completed package at the bottom of a moving box where you will have other kitchen-related items.
Mark the exterior of the box with the direction of the block.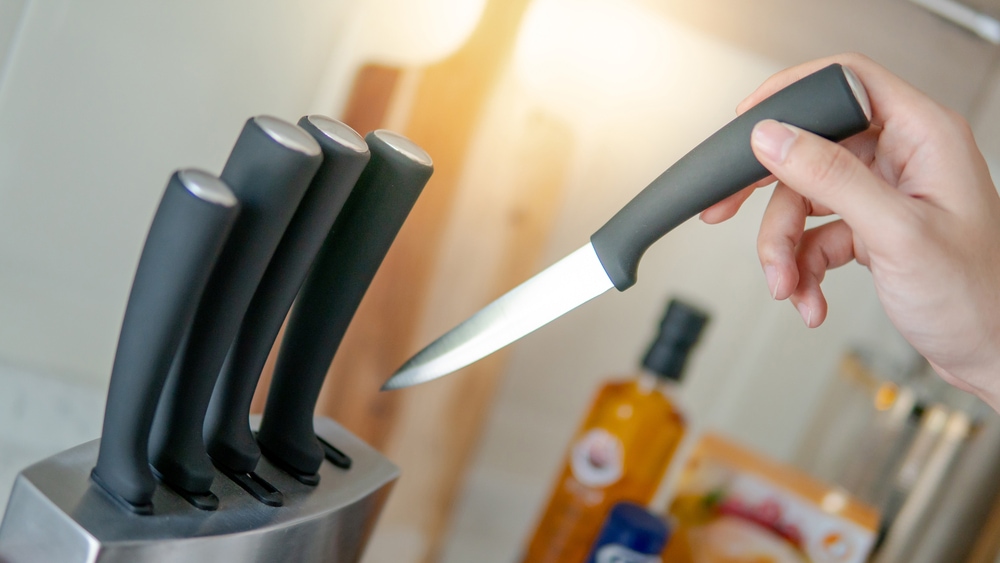 What about Premium Chef Knives?
Most high-quality blades will have some sort of container or sheath that they came with when you originally made the purchase. However, you want to take extra care with these kitchen knives as they are most likely harder or more expensive to replace.
Clean and dry each premium chef knife.
Return to box or sheath if available.
Wrap in packing paper or old rags/shirts.
Place two appropriately sized pieces of cardboard on either side, like a sandwich.
Secure with packing tape and add bubble wrap if needed.
Place inside a box and label the exterior with the direction of the blades.
How to Pack Knives for Camping?
Who doesn't enjoy an extended trip to the great outdoors and the chance to make delicious camp food in the wild? The easiest method for preparing your blades for camping is similar to a professional chef's rolled carrying case, just more handmade.
Grab a thicker towel and fold in half lengthwise.
Place your knives about 1-2 inches apart in the same orientation with blades pointing away from you, leaving a few inches at the top.
Fold the top part of the towel over the tips and then roll from right to left.
Secure the bundle with twine, rubber bands, or packing tape.
Place securely in your pack or gear with the knives pointing away from the body of whoever will be carrying them.
How to Pack a Knife in Checked Baggage?
The danger with air travel and knives is that they can be mishandled by baggage carriers in a rush to load a plane. You do not want to cause anyone damage or accidental cuts and then be stuck in security while your flight takes off without you. A little simple preparation goes a long way to ensure you arrive at your destination on time.
Place any knives into their sheaths or original packaging if available.
Separate each knife individually and place it on wrapping paper.
Roll the knives in paper or an old rag/t-shirt.
Place two pieces of cardboard on either side like a sandwich.
Wrap with tape and write the orientation of the blade and its contents on the exterior in case your bag gets checked by security.
Roll the entire package into a pair of jeans or clothing.
Can you take kitchen knives in checked luggage?
Yes, according to the TSA, you can bring any knives into your checked luggage except for plastic or round-bladed butter knives. You cannot bring these knives in your carry-on luggage. Those will be confiscated by TSA screeners as you pass through security.
Conclusion
Just because you are taking a trip or planning a move shouldn't mean giving up your favorite kitchen knives for meal preparation and cooking. Taking the time for a bit of preparation and planning goes a long way to ensure you have the tools you need to create delicious meals for your family, friends, guests, and yourself whenever you need them. These tips should help you keep your knives safely packed away whenever traveling.