If you enjoy cooking, cooking classes can be an excellent way to improve your culinary skills, learn helpful kitchen tips, and meet people.
Why Should You Take Cooking Classes?
Most people attend culinary classes because they want to upgrade their cooking skills. Of course, if you want to improve your culinary knowledge and skills, enrolling in a cooking class, whether in person or online, is a logical decision.
However, some people enroll in cooking classes to explore their artistic abilities, acquire skills for their future business and start a culinary career, or meet people and have fun.
Whatever your reasons for attending a cooking course, these classes provide hands-on experience with food preparation, presentation, and appreciation. In addition, cooking classes offer the benefits such as:
Promoting interest in healthy food choices
Teaching culinary techniques
Introducing international cuisines
Helping you gain fundamental knife knowledge and skills.
The Different Types of Cooking Classes
When deciding on which culinary classes to take, think about the goals you want to attain with this course and your skill and commitment level.
For example, if you want to become a professional chef, you may wish to enroll in a full-time course at a local college or an online cooking school.
College culinary courses usually take several years to complete. Still, they can be an excellent way to start a successful culinary career.
On the other hand, if you are looking for basic culinary training in a more casual environment, you can take virtual cooking classes or classes offered through community colleges. You can also cook with a personal tutor or take part in cooking lessons with a group.
Most commonly, your cooking classes are divided into several categories. So, depending on your needs and interests, you can enroll in:
Baking and pastry courses
International cuisines
Culinary basics of French cooking
Pasta-making and cooking classes
Cake-decorating classes
Food presentation courses.
Five Fantastic Advantages of Cooking Classes
Whether you want to be a professional chef or do it for fun, here are five incredible perks you may acquire from your cooking lessons.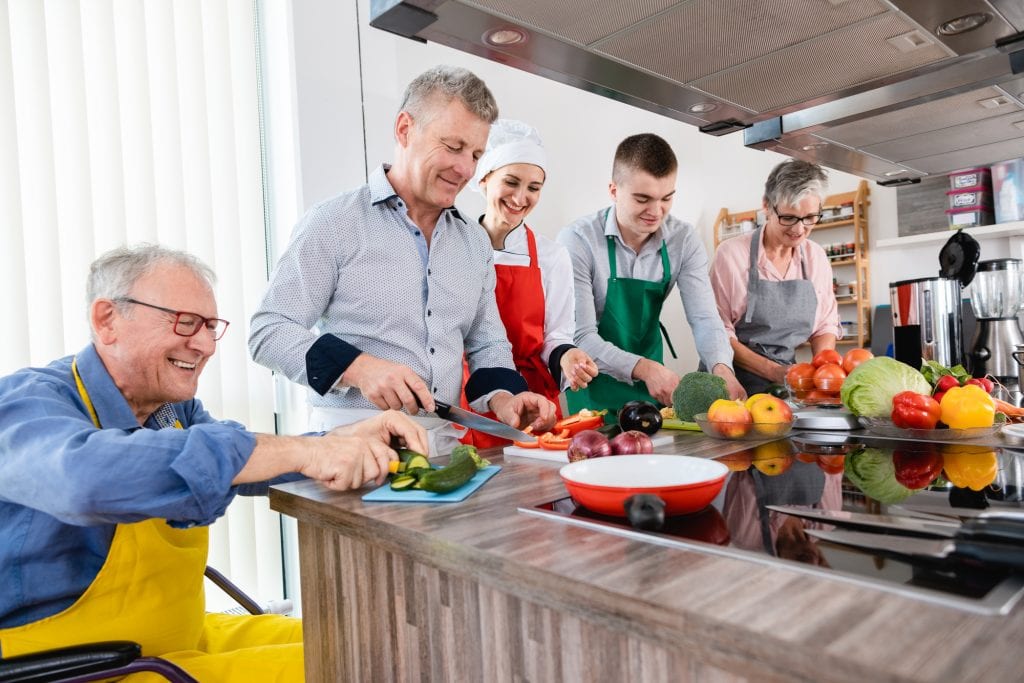 Cooking Classes Can Improve Your Culinary Skills
Cooking is a talent that may be improved at any time. So, cooking classes may help you learn new culinary techniques, enhance your skills, and discover new food alternatives.
On the other hand, if you cannot cook, joining a culinary class can be an excellent opportunity to gain basic cooking skills.
Cooking Classes Can Teach You About Kitchen Safety
Cooking lessons may be a terrific way to learn how to use your kitchen correctly or cook safely with your children.
For example, you may learn about different knife types and how to handle them securely.
You may also learn how to prepare foods at safe temperatures or store cooked meals, sterilize work surfaces, and other essential safety guidelines in the kitchen.
Cooking Classes Encourage Social Interaction
Cooking courses can help you meet people with similar interests and make new friends. Several studies show that being socially active can improve our mental and physical health, help us feel happier, and even prevent cognitive decline.
While many people find conventional learning in a physical setting the most natural way to engage with others, online classes can also be an excellent option. For example, online cooking courses can be a great choice for those who don't have time to attend the classes physically, prefer to stay socially distanced, or for timid people. Virtual cooking classes can help overcome these obstacles and meet new people while learning valuable culinary skills.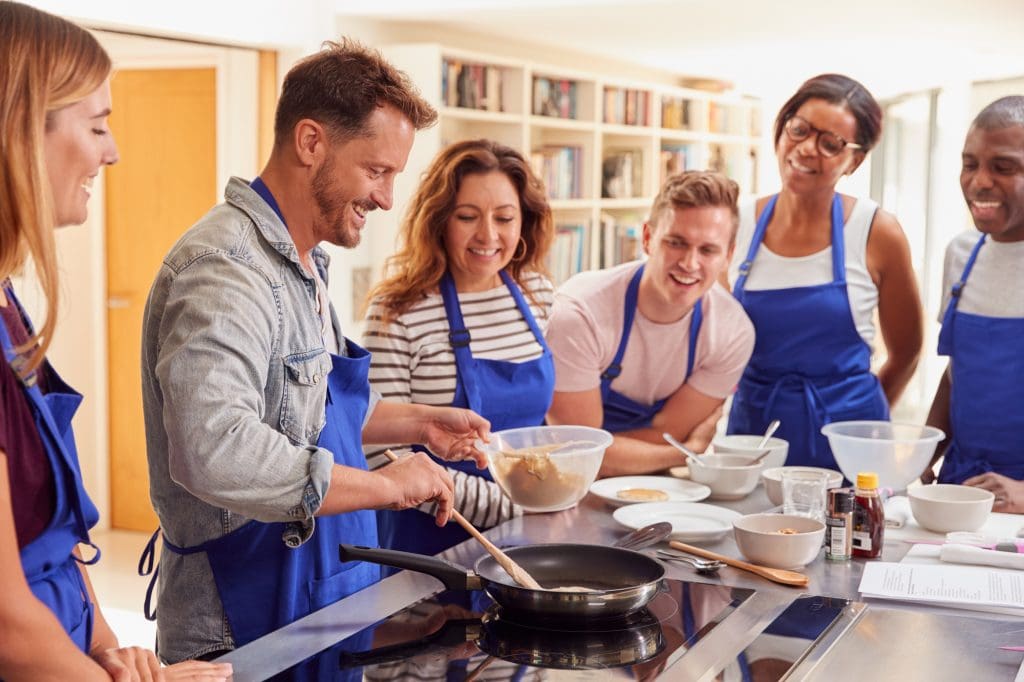 Culinary Classes Can Expose You to a Wide Range of International Cuisines
Most people enjoy trying new cuisines. And cooking classes are the perfect place to discover various international cuisines. Moreover, learning about a country's food will also teach you about that country's culture, geography, and people.
So, you may find yourself wanting to travel to and explore faraway places you learned about in culinary school.
Cooking Classes Can Make a Great Hobby
Cooking classes for adults can be a fantastic way to turn a cooking chore into a hobby and spend your free time doing something you enjoy.
Research shows that hobbies can help us relax, unwind, and strike a healthy work-life balance, promoting a sense of happiness and well-being.
Summary
Cooking classes can be an excellent way to relax and improve your emotional well-being while learning new culinary skills and having fun. It can also be a great way to foster healthy food habits, socialize, and expand your knowledge of the world.