Searching for kitchen knives can become addictive if you're not careful – there are so many options out there with their own set of virtues and drawbacks. In this article, we'll be exploring the Chinese cleaver VS chef knife question.
We'll discuss the strengths and purposes of each knife, the different characteristics that set them apart, and how to know which option might work best for you. Keep reading to find your new favorite kitchen companion!
Chinese Cleaver Overview
The first thing that most western shoppers notice about a Chinese cleaver is its shape. This type of knife usually features a tall, rectangular blade with a completely straight edge and a blunted tip. They wouldn't look out of place in a butcher's shop but are actually best utilized as an all-purpose kitchen knife.
You'll also enjoy the added benefit of being able to tackle softer bones and denser meats.
Chinese Cleaver Shape
The large rectangular blade of most Chinese cleavers is great for crushing things like garlic during kitchen prep. Thanks to its size, some western chefs take a little while before they're able to use cleavers effectively.
You'll be using an up-and-down motion when making cuts rather than the rocking motion that's possible with most chef's knives.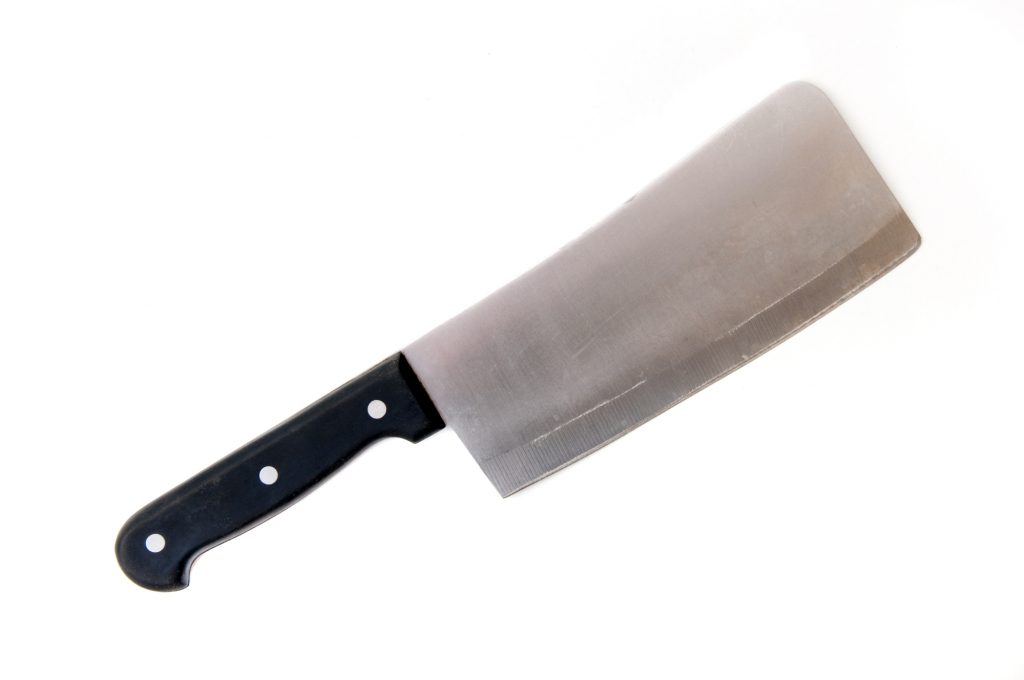 Chinese Cleaver Balance
The balance of Chinese cleavers isn't bad – it's just a little different to what you'll be used to with a chef's knife. The heavier blade and larger overall size mean that there's something of a learning curve to adapt to here.
Chinese Cleaver Hand Position
The awesome size of most cleaver blades means your hand will be higher up from your chopping surface than with most chef's knives. This can allow for a greater amount of force when cutting through bones or denser meats.
Chinese Cleaver Uses
Preparing denser meats
Cutting through bone (softer bones, not super heavy-duty tasks)
Crushing vegetables and herbs
'Scooping' prepped foods ready for cooking
Chinese Cleaver Basic Stats
Blades are between 6-9 inches long and 3-5 inches tall
Blades are typically 0.07" – 0.31" thick
Between 60 and 62 HRC
Chef's Knife Overview
If you're reading this in the United States or western Europe, you're likely already familiar with this type of kitchen knife. This type of knife features a blade that isn't anywhere near as tall as its Chinese counterpart. Most models also offer a pointed tip for incisions and more precise cuts.
Chef's knives make fantastic all-purpose kitchen tools and are best used with a rocking motion for dicing and mincing.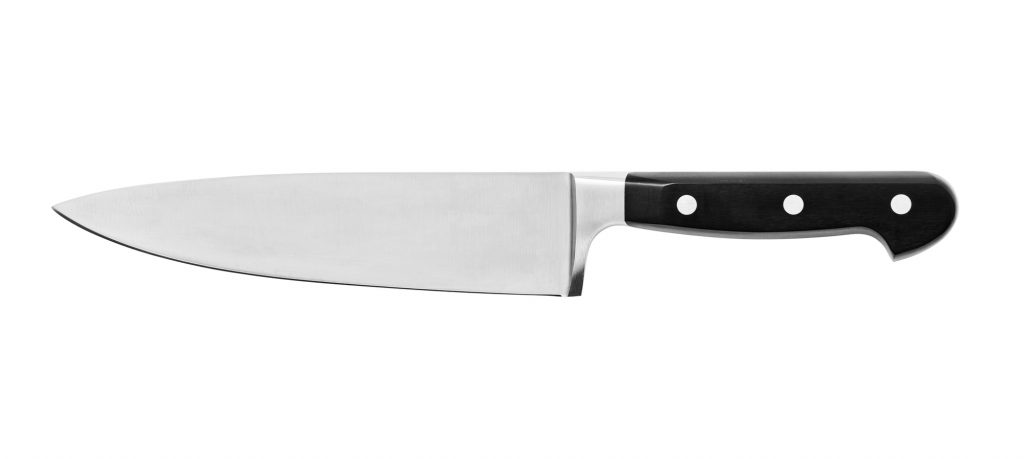 Chef's Knife Shape
The smaller, pointed shape of a chef's knife will be more familiar to western cooks. The French culinary tradition has dramatically influenced this kind of knife. Tasks like mincing garlic and dicing shallots feel effortless with a chef's knife.
Chef's Knife Balance
In general, chef's knives are lighter than Chinese cleavers and the weight tends to be distributed more evenly across the entire length of the product. Again, this doesn't necessarily mean that the balance of chef's knives is better – it's just a different factor to get used to when cooking.
Chef's Knife Hand Position
As chef's knives aren't nearly as tall as Chinese cleavers, your hand will be much closer to your cutting surface. While some tasks will be helped with an up-and-down motion, most jobs you do with a chef's knife will benefit from the classic rocking motion that helps prepare foods quickly.
Chef's Knife Uses
A broad variety of kitchen tasks
Slicing, dicing, mincing
More delicate meats and fish
Peeling and cutting
Chef's Knife Basic Stats
Blade lengths between 6 and 12 inches (12 inches will feel unwieldy to a beginner)
An ideal blade thickness of around 0.01"
HRC between 57 and 62
Chef's Knife VS Chinese Cleaver – How They're Different?
Both Chinese cleavers and chef's knives work well as great 'all-rounder' in the kitchen. The main difference to keep in mind here is the shape and size of each knife. Chinese cleavers can be fantastic for crushing things like garlic, preparing large amounts of veg, and then scooping it all up on the large, rectangular handle.
Just be ready to use an up-and-down motion for best results. You'll also have to adapt to the different weight distribution and hand position required if you've never used this type of knife before.
| | | |
| --- | --- | --- |
| Cleaver | Clever | Chef's Knife |
| Blade Length | 6-9 inches | 6-12 inches (usually 6-8, though) |
| Blade Thickness | 0.07" – 0.31" thick | The ideal thickness of 0.01" |
| Flexibility | Low | Varies but typically low |
| HRC | 60 – 62 | 57 – 62 |
| Main Purpose | Chopping, slicing, dicing, denser meats, softer bones | Also general purpose, less capable with bones |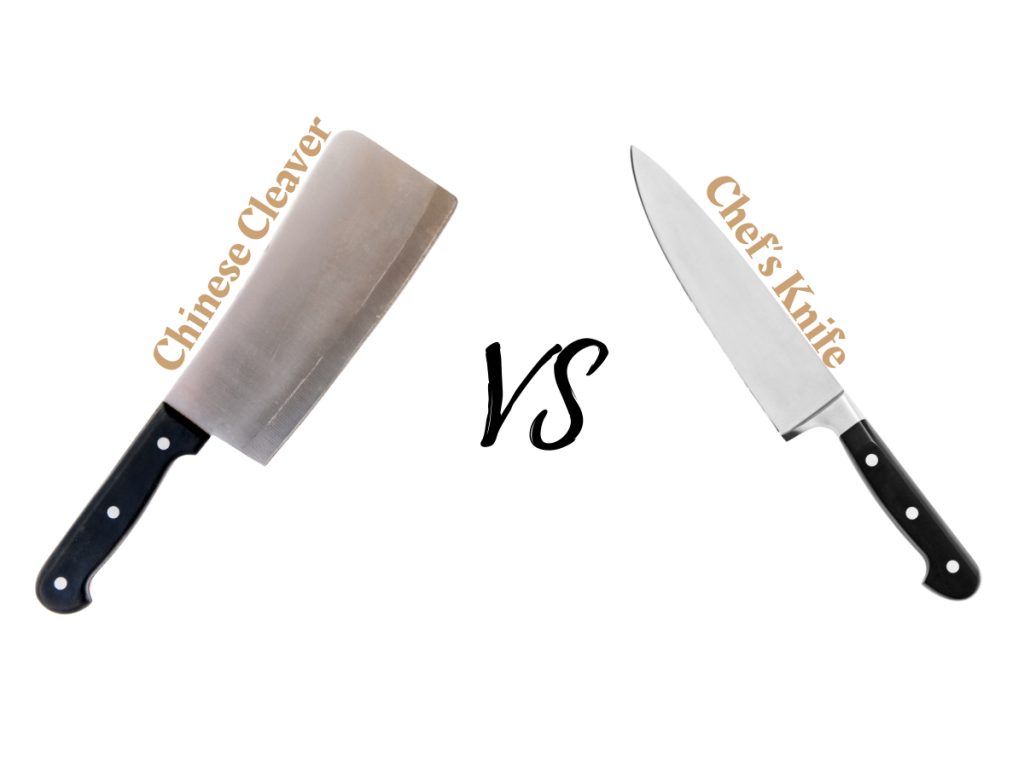 Which One Should I Choose?
If you're willing to adapt to a learning curve for a week or two, there's a lot to be said for a high-quality Chinese cleaver. The larger blade surface is surprisingly convenient when transferring prepared foods from a chopping surface to the frying pan, for example.
Reflect on whether you're ok with using a more 'rigid' up-and-down motion when cutting. Also, consider whether the higher handle and different balance style might be a problem for you.
If you'd rather stick with what you're used to, chef's knives are also a fantastic all-purpose kitchen utensil.
Chinese Cleaver Recommendation
Looking for the best Chinese cleaver around in 2022? We think this one is superb – Zwilling Twin Signature 7" Chinese Cleaver.
The Zwilling brand is legendary and this model offers exceptional performance.
Click here to browse the best Chinese cleavers.
Chef's Knife Recommendation
Looking for a western classic? We think this is the best chef's knife around right now – Victorinox Fibrox Pro, 8 Inch Chef's Knife.
The size and balance in particular are fantastic.
Check out our guide to the best chef's knives.
Final Thoughts
We hope this article helped to clear up any confusion. While both Chinese cleavers and chef's knives can be versatile tools in the right pair of hands, the main things that set them apart are their size and shape.
We're huge fans of both, but western shoppers will need to adapt to the hand position and chopping style if they opt for a cleaver.