We at Knives Academy are constantly testing out new blades for personal and professional use. So when the opportunity came up to explore one of the better Nakiri knives on the market, we had to give it a test run. These Japanese prep blades tend to be a bit taller than others, offering you plenty of versatility in the kitchen. Our top choice is the Tojiro 165mm F-502 for the best Nakiri knife.
Watch the video and read our review to see what we thought about this handy chef knife.
General Information – Tojiro 165mm F-502 Nakiri knife
| | |
| --- | --- |
| Brand | Tojiro – 藤次郎 |
| Price Range | $70-$75 |
| Manufacturing Country | Japan |
| Total Knife Length (In/cm) | 12/29.46 |
| Knife Weight (Oz/Gr) | 6.35/180.02 |
Tojiro knives are a well-known brand in and around Japan because of their excellent quality and high functionality for a wide number of recipes. At its core, this is a vegetable blade used for dicing, cutting, slicing, and preparing meals, but the edge is sharp enough and designed to handle anything else from cheeses to meats. This is because the total weight and length are more than enough to handle most ingredients without placing too much strain on your wrist or hand. That makes it our preference for chefs from any gender or hand strength.
Tojiro 165mm F-502 Nakiri knife Unboxing
It is always nice to see a quality effort put into the packaging of a blade. Purchasing a chef knife should feel like a complete experience because this will likely be one of the most frequent tools you use in a kitchen.
With the Tojiro, you get a well-designed box with Japanese lettering on top and the chef knife blade inside of a protective sheath. The moment you take this sheath off, you can see the high finish of the blade shine in the light and the incredibly sharp edge for such a large knife.
The Blade of the Tojiro 165mm F-502 Nakiri knife
| | |
| --- | --- |
| Forged / stamped | Forged |
| Blade Material | Stainless Steel |
| Blade Flexibility | Not Flexible |
| Blade Edge | Double Bevel |
| Straight/Serrated | Straight |
| Blade angle | 9-12° |
| Balance | Perfect Balance |
| Blade Length (Inches) | 6.5 |
| Blade Height (Inches) | 2.7 |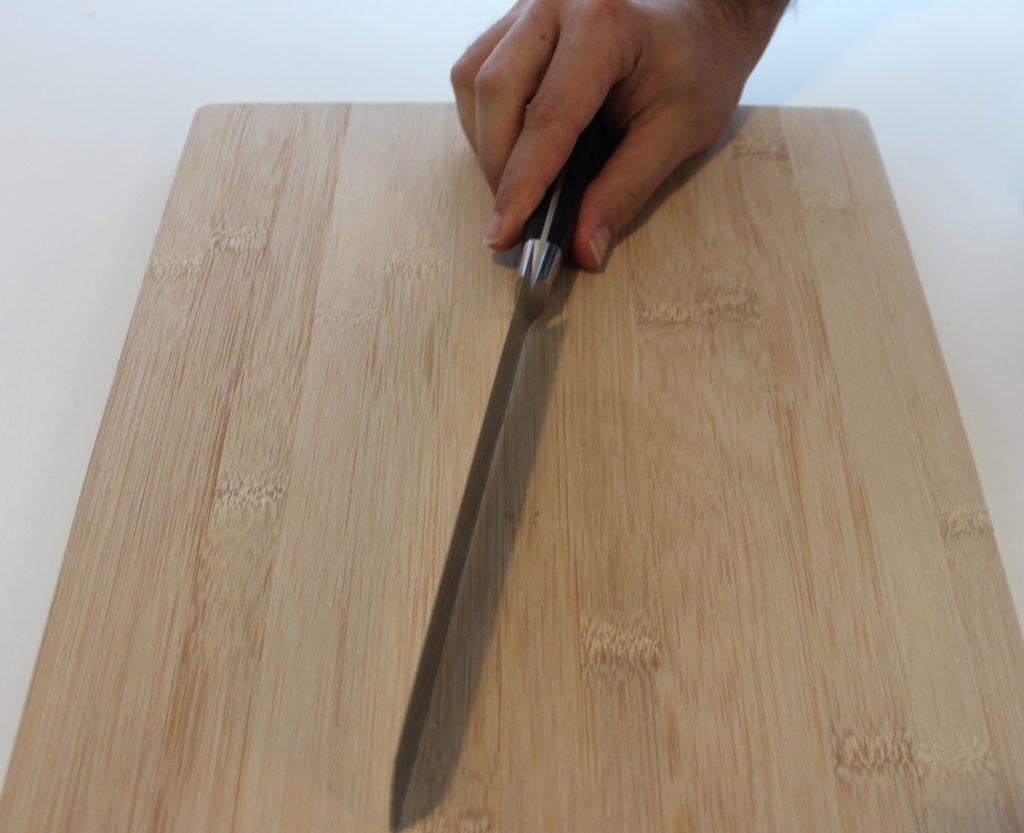 The blade is sturdy and highly durable due to its density of 60 HRC. At an ideal length of almost 7", it is more than long enough for most larger vegetables, but not so long that you cannot use it for other ingredients as well.
The blade's edge has an acute angle of between 9 and 12 degrees, making it much sharper than blades of a similar size.
One of the better attributes of this Nakiri knife is that instead of having a pointed tip like many similar blades, the Tojiro tip is rounded. This allows you a much easier rocking motion while cutting through ingredients during prep work. Most Nakiri knives do not have this kind of feature. There really are not many downsides to this Nakiri knife. We noticed a possible quality control issue from a slight bump on the bottom of the blade's edge that needed to be sanded off, so gripping the knife close to the blade would be a comfortable experience.
The Handle of the Tojiro 165mm F-502 Nakiri knife
| | |
| --- | --- |
| Handle Length (Inches) | 4.9 |
| Handle Feel | Ergonomic |
| Tang | Full Tang |
| Handle Material | Reinforced Laminated Material |
| Handle Color | Black |
The balance on this knife is extraordinary. It includes a full tang running all the way through the handle that allows complete use with excellent balance.
The grip is comfortable which is more characteristic of western handles and unlike other Nakiri Knives that tend to have a flatter handle.
This Japanese knife has also a bolster on the end, creating a boundary for where your grip will end.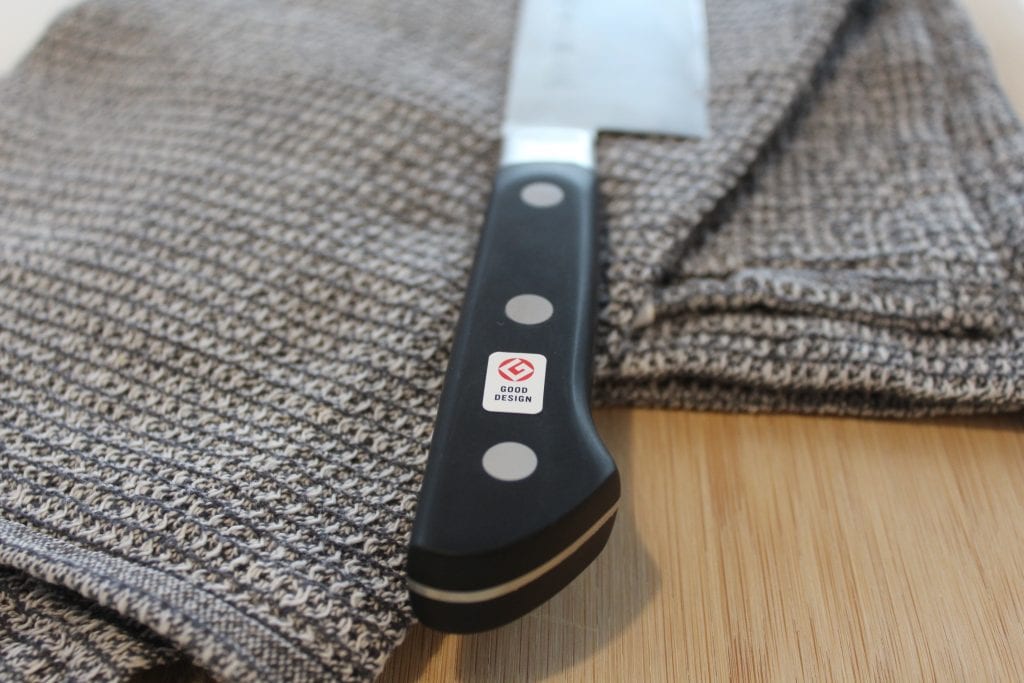 Uses of the Tojiro 165mm F-502 Nakiri knife
It is important to remember this is not a flexible blade. That means you should not try to use it for filleting fish or working around bones. It is designed more as a versatile prep chef knife, and that is how it should be used.
Tasks that were comfortable to complete with this knife:
The rounded tip made slicing and chopping vegetables extremely easy. A lot of Japanese cuisine uses fresh produce, so it is easy to see why this particular blade is constructed the way it is.
Chopping herbs did not place any stress on the wrist because the blade angle is so sharp. You do not have to keep going back over piles of herbs repeatedly.
Garlic is a cinch with a blade height and thickness that is durable. The HRC rating means you can be a little rough with this knife and not have to worry.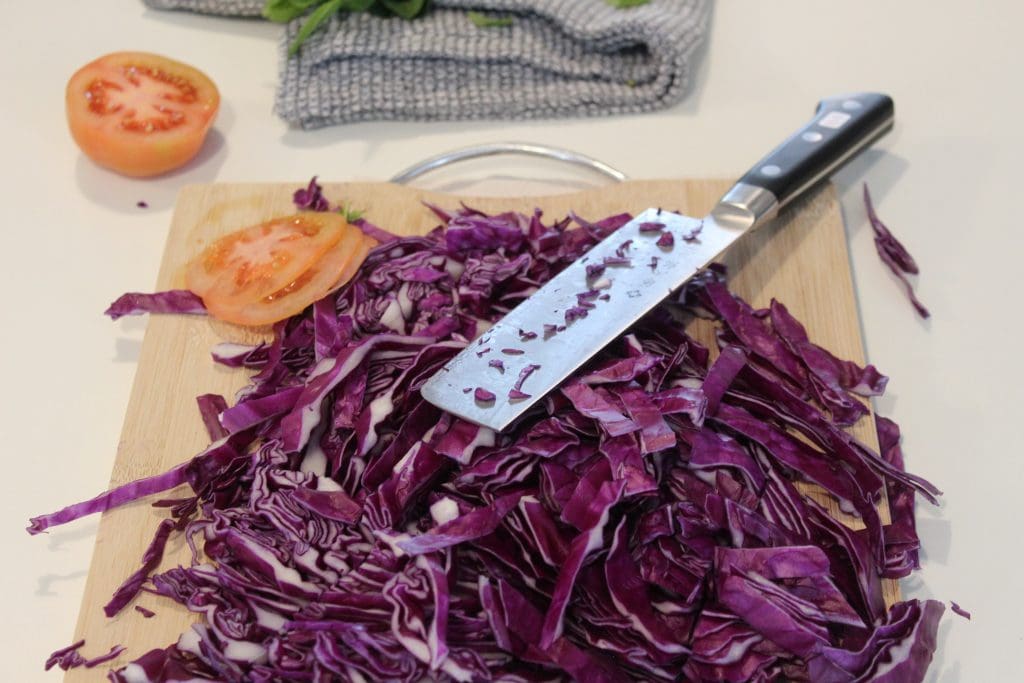 Maintenance and Cleaning
Tojiro recommends the following process to keep this fantastic chef knife in good condition:
Clean after every use with a soft sponge and mild soap. Be sure to completely dry before storing away to avoid any staining.
Make sure to remove any residue after working with acidic foods like citrus or pickles.
Sharpen the knife once or twice a month with honing steel.
Do not leave your knife in water for a soak.
Conclusion
All in all, this was a refreshing experience because the Tojiro 165mm F-502 Nakiri knife is so versatile and delivers on its promise of making Japanese cooking so much easier. With the rounded tip and bolster barrier at the end of the handle, there is enough adaptation to Western food preferences that you will find this blade an excellent addition to your cooking tools.
Read next >> Nakiri vs Santoku