The Vosteed Hackney 8.5" chef's knife is one of the most striking blades you will ever see on the market. From the custom design to the excellent price point, this is a quality Kiritsuke knife with all the cooking versatility and status symbol boost you could want. We got our hands on this premium knife for an in-depth review of its many beneficial features so you can learn more about it before making a purchase. So read on to dive into the world of exceptional Kiritsuke blades from Vosteed.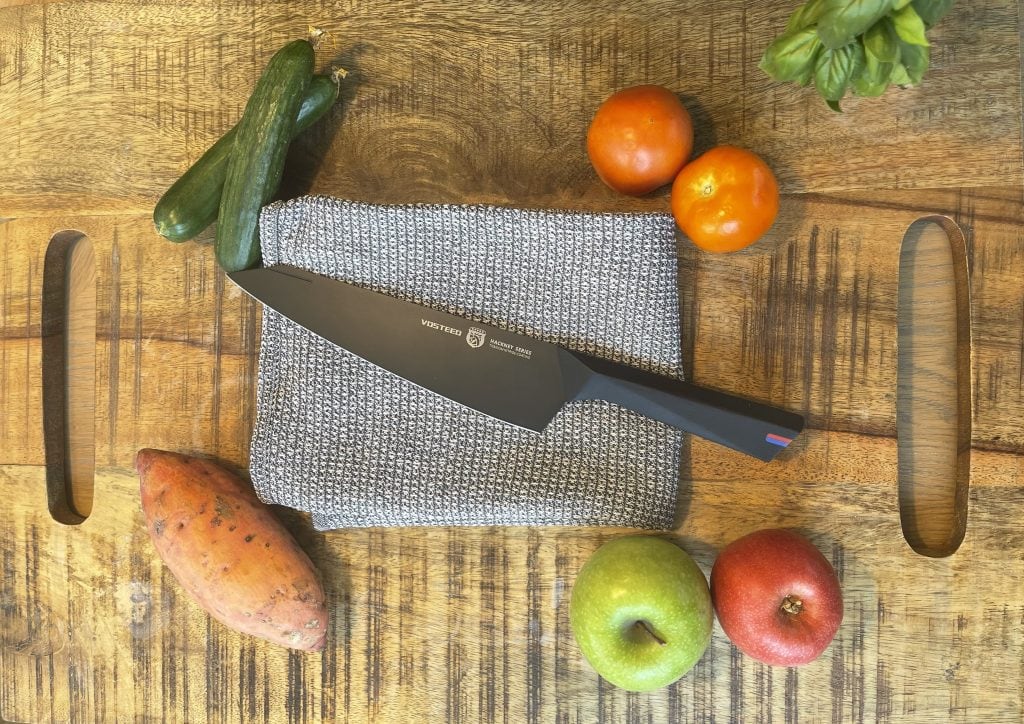 General Information – Vosteed | Hackney 8.5" Chef Knife
| | |
| --- | --- |
| Brand | Vosteed |
| Price Range | $40-$50 |
| Manufacturing Country | Taiwan |
| Total Knife Length (In/cm) | 14 / 35.7 |
| Knife Weight (Oz/Gr) | 7.9 / 224 |
Vosteed is a manufacturer of quality blades. You could easily outfit your entire kitchen with all the various knives required for delicious dishes from all over the world. The chef's knife, in particular, offers a much longer and heavier blade than usual while still giving the performance and flexibility you would want for working with everything from fresh meats, to fish, and vegetables. You could easily prepare a complete meal with nothing more than the Vosteed Hackney 8.5" chef's knife.
Vosteed | Hackney 8.5" Chef Knife Unboxing
This chef's knife arrives in a carefully wrapped box with the image of the blade on the outside, so you know what you are receiving. The interior box slides right out and opens to reveal the custom sheath first. You will want to keep that handy for storing the blade later on. The blade itself is well wrapped for safety and cleanliness purposes as this is an extremely sharp blade out of the box. You also get the company's message "cooking for loved ones" on the temporary cardboard sheath, which is a nice touch. Overall, this is a welcome unboxing experience that makes you feel like you have purchased a high-end premium blade.
The Blade of the Vosteed | Hackney 8.5" Chef Knife
| | |
| --- | --- |
| Forged / stamped | Forged |
| Blade Material | 7Cr17MoV steel with black titanium coating |
| Blade Flexibility | Not so Flexible |
| Blade Edge | Double Bevel |
| Straight/Serrated | Straight |
| Blade angle | 18-20 degrees |
| Balance | Well Balanced |
| Blade Length (Inches) | 8.5 |
| Blade Height (Inches) | 2 |
| HRC (Rockwell Hardness) | 56-58 |
The Vosteed Hackney 8.5" chef's knife has the traditional reverse tonto-styled tip to work your blade in between various ingredients. What is a bit surprising is the double bevel option instead of the typical single bevel, but that only adds to the versatility and use by both left-handed and right-handed chefs. With that tip, you get far better control and dexterity when mincing garlic or shallots. However, this is not ideal for a rocking motion with other ingredients, even though the edge is slightly curved. Overall this is an excellent blade with a hardness rating of 56-58, making it durable enough for a long-lasting addition to your kitchen.
You also get a lightweight knife that may require you to use a bit more force when working with bigger ingredients like hard vegetables. You do not have to worry about corrosion or wear resistance from the titanium coating, but that may grind away a little when you sharpen the blade for maintenance. At 8.5 inches, this is a longer than usual Kiritsuke blade which is the only real downside as many prefer maxing out the length at 8 inches instead.
The Handle of the Vosteed | Hackney 8.5" Chef Knife
| | |
| --- | --- |
| Handle Length (Inches) | 5.5 inches |
| Handle Feel | Lightweight and easy to grip in hand |
| Tang | Full tang |
| Handle Material | G10 |
| Handle Color | Black |
Even though this handle is uniquely constructed from most other Kiritsuke blades, it is surprisingly comfortable to grip and use. The oddly created triangular slope of the handle gives you an ultra-comfortable pinch grip for working with different ingredients. That is equally true for other grips along the handle, blade, and thumb-on blade. The material is G10, the same used in military applications with a non-slip feature and excellent bolster to create a boundary for your grip point. This is the type of handle you would want on a Kiritsuke to get the unique cuts and extreme maneuverability known in Japanese cooking.
Uses of the Vosteed | Hackney 8.5" Chef Knife
Like most other Kiritsuke blades, the Vosteed Hackney 8.5" chef knife is designed for all-around use in a home or professional kitchen. You could easily get by with just this knife for most meals, which is the intent of a quality chef's blade. The addition of the titanium coating and comfortable grip points means you have a durable option with tons of versatility that makes for an excellent addition to your tools or a great gift for the culinary inclined in your family and friends group.
Tasks that were comfortable to complete with this knife:
Slicing and push-cutting softer vegetables.
Mincing garlic and shallots with the tip.
Good enough for slicing raw meat.
Tasks that were not comfortable to complete with this knife:
Cutting big and hard vegetables.
Rocking motion cutting.
Filleting – we could do it, but it wasn't very comfortable.
Too big for delicate tasks and peeling.
Definitely not for breaking bones.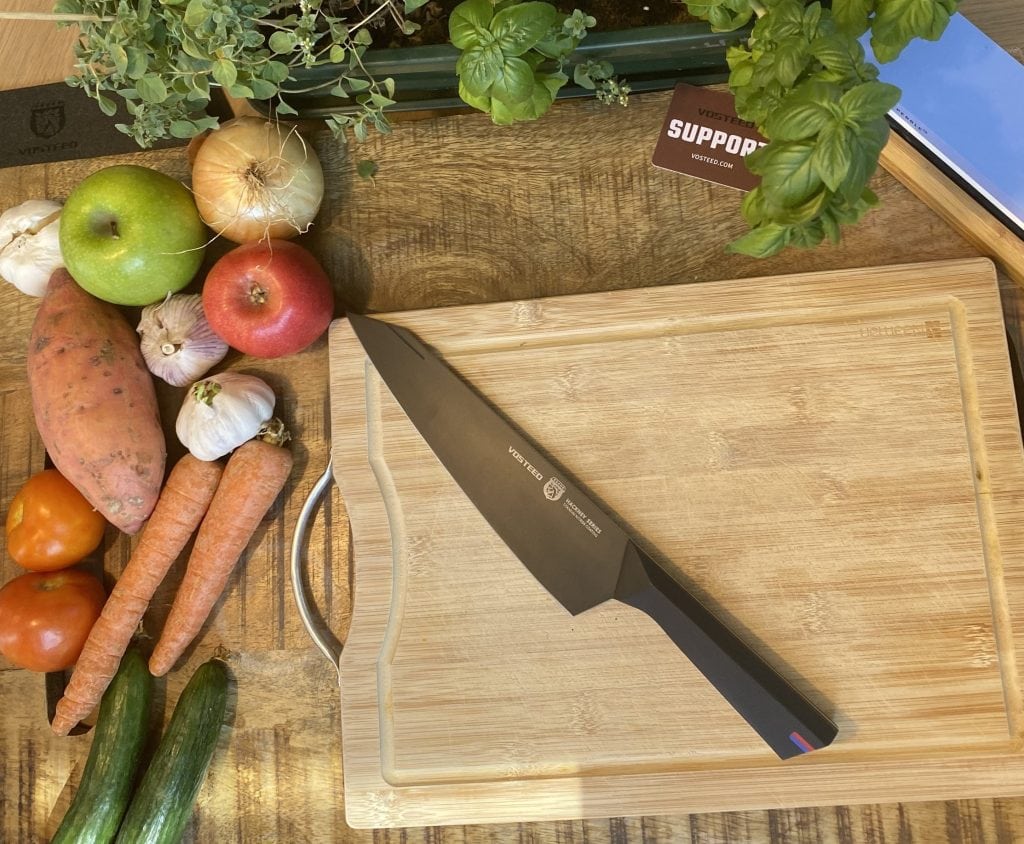 Maintenance and Cleaning
Sharpening
You will need to occasionally sharpen the Vosteed Hackney 8.5" chef's knife. You can learn how to sharpen this fantastic blade using different methods. Honing the blade will ensure the quality maintained edge that will most likely not harm the titanium coating. Sharpening may move the blade coating slightly, so working with sharpening steel is your best bet compared to an electric sharpener or stone.
Cleaning
This is a quality-made blade with steel that should not be placed in the dishwasher. Leaving a knife like this out to air dry will only add rust stains. The manufacturer suggests carefully hand washing with warm water and a small amount of mild soap, then drying completely with a microfiber cloth before returning to the sheath and storing away from small hands and pets.
Conclusion
While this is a bigger blade than usual for a Kiritsuke, we think the Vosteed Hackney 8.5" chef's knife is an excellent option for a home or professional kitchen. It has fantastic features that make it a long-lasting, versatile choice for working around a wide range of ingredients. You also have an exceptional price point compared to most other Kiritsuke blades on the market, meaning you won't break the bank. We recommend the Vosteed Hackney and hope this in-depth review has provided you with enough information to make a purchase decision on your own. Happy shopping!