It might not change your life, but the Tojiro bread slicer 235mm F-737 will certainly make your kitchen tasks simpler. If you ask us, this is phenomenal tool that combines a sub-$50 value with exceptional performance.
In this Tojiro bread slicer 235mm F-737 review, we'll dive deep into its advantages, drawbacks, and other considerations. Read on to learn if this handy little knife is right for you.
General Information – Tojiro Bread Slicer 235mm F-737
| | |
| --- | --- |
| Brand | Tojiro – 藤次郎 |
| Price Range | $20-$25 |
| Manufacturing Country | Japan |
| Total Knife Length (In/cm) | 14.75 / 37.47 |
| Knife Weight (Oz/Gr) | 3.9 / 110.56 |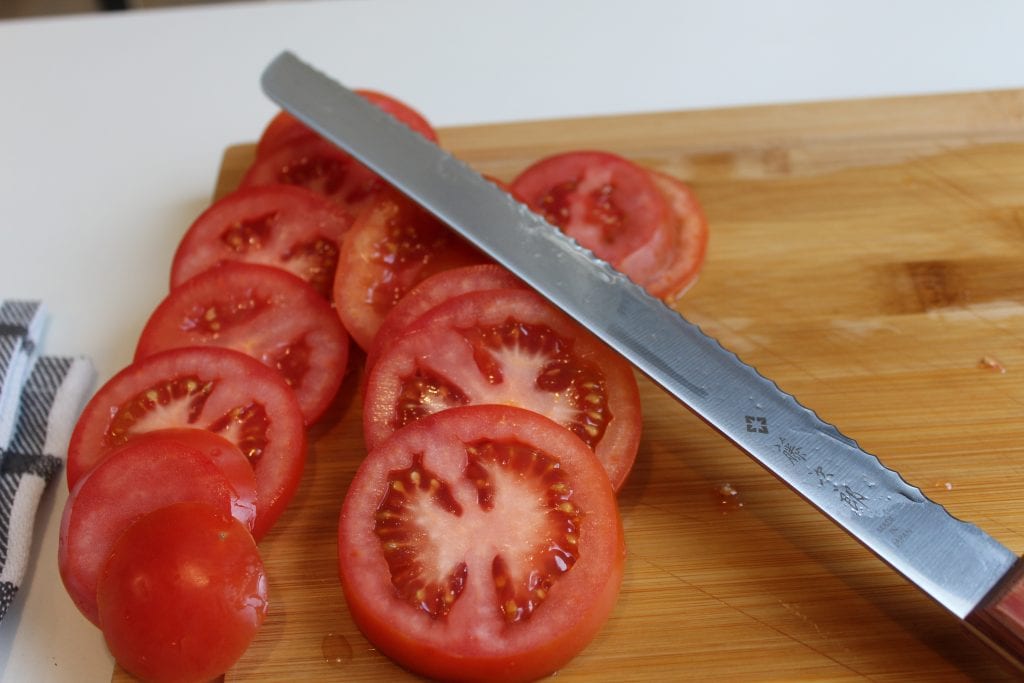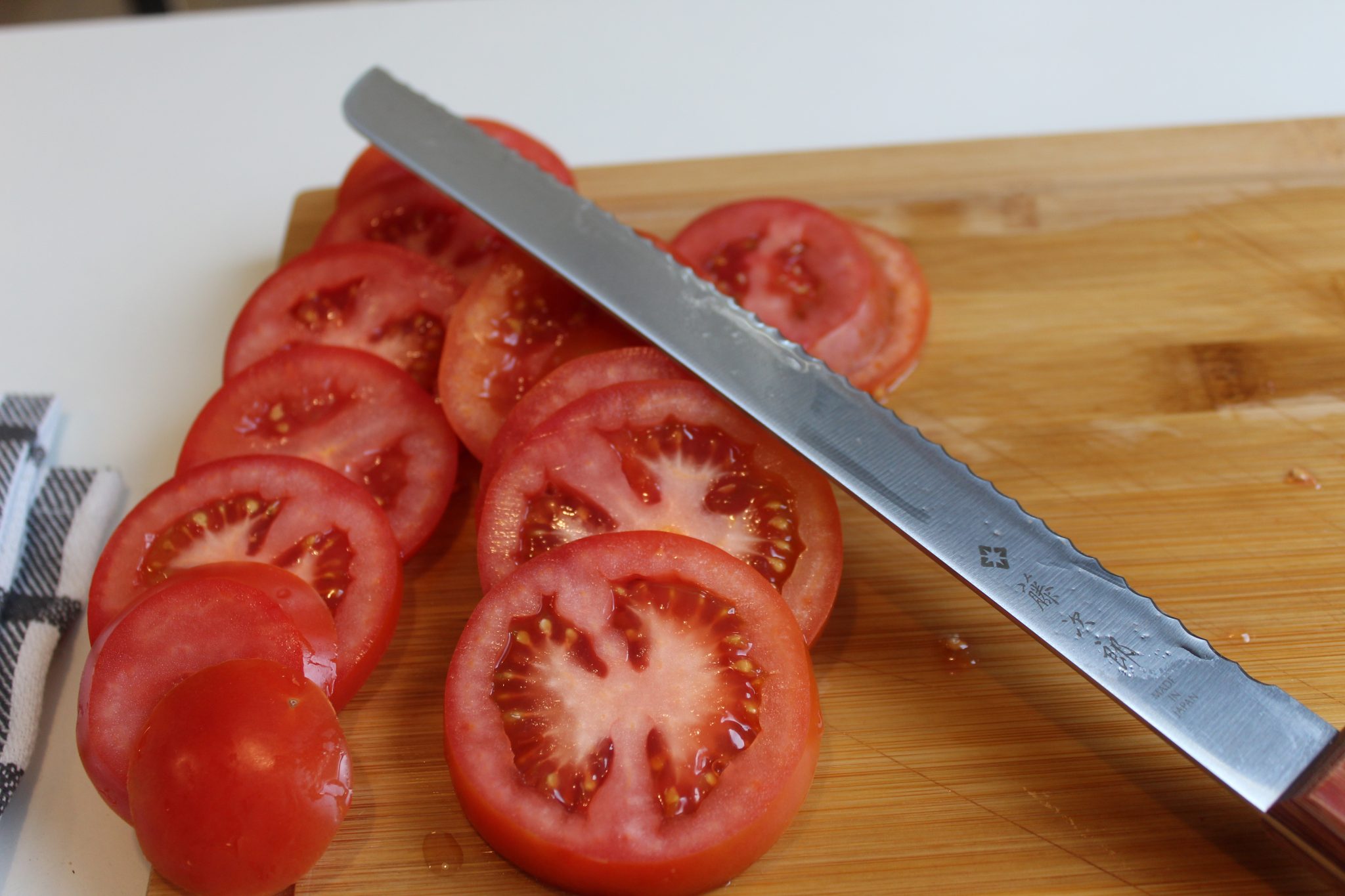 Since 1955, Tojiro has been producing some of the best kitchen knives the industry has ever seen. The brand's dedication to performance, comfort, and overall sharpness is really quite something. If you're using a Tojiro knife, chances are that it will serve you very well for many years to come.
This bread slicer in particular deserves a fair bit of praise. Its length and weight are ideal for our preferences and we think it feels absolutely fantastic in the hand. It stands as testament to a longstanding tradition of high-quality Japanese craftsmanship.
Tojiro Bread Slicer 235mm F-737 Unboxing
We know this isn't the first thing that most home chefs look out for, but we noticed it straight away. The unboxing experience of the Tojiro bread slicer 235mm F-737 is just fantastic. The company appears to pack their knives exceptionally well.
The blade is well guarded in high-quality packaging that's refreshingly easy to open and unwrap. You'll be using your knife in record time without fiddling about for ages!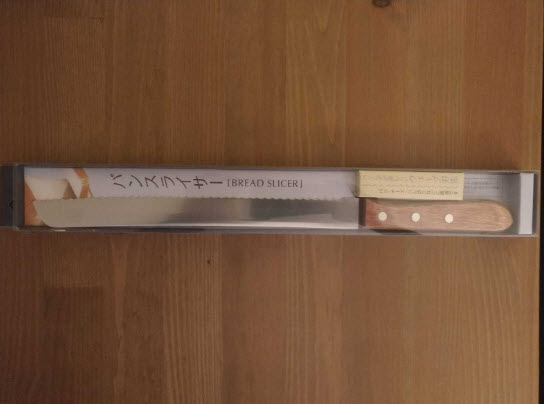 The Blade of the Tojiro Bread Slicer 235mm F-737
| | |
| --- | --- |
| Forged / stamped | Forged |
| Blade Material | High-Carbon Stainless Steel |
| Blade Flexibility | Very flexible |
| Blade Edge | Pointed edge – Single bevel |
| Straight/Serrated | Serrated |
| Blade angle | 9-12° |
| Balance | Great balance |
| Blade Length (Inches) | 9.25 |
| Blade Height (Inches) | 0.7 |
| Blade thickness/width (inches) | 0.2 |
| HRC (Rockwell Hardness) | 60 |
Overall, we're huge fans of the blade on this bread slicer. The high HRC rating of 60 is great to see – this means it is comparatively hard and should maintain its sharpness for longer than comparable knives on the market.
The single-bevel knife edge makes that initial break on your slices that much easier. Keep in mind, however, that this also makes it more likely that you'll slip or tilt when cutting.
When compared to other bread knives, the flexibility on offer is a little higher than you might be used to. In most cases, this is actually a good thing as it makes cutting most breads easier. The one thing to watch out for will be harder loaves as the added flex may be tricker in this context.
One drawback here is that the blade gets stretched more easily than we'd like – work carefully and practice good maintenance.
The Handle of the Tojiro Bread Slicer 235mm F-737
| | |
| --- | --- |
| Handle Length (Inches) | 5.5 inches |
| Handle Feel | Lightweight and ergonomic |
| Tang | Full tang |
| Handle Material | Wood |
| Handle Color | Brown – wood |
This bread slicer's handle is comfortable, lightweight, and easy to use overall. However, it's worth keeping the following in mind before buying:
The knife's balance tilts towards the blade which makes it easier to apply force when cutting. However, this may feel unbalanced for some (we love it though!).
The handle is ergonomic overall with a comfortable front indent. However, there's no bulge at the back.
This knife is best for small to regular-sized hands – those with bigger hands may struggle.
Uses of the Tojiro Bread Slicer 235mm F-737
We had no trouble at all doing the following with this knife:
Slicing softer breads.
Tackling harder crusts.
Cutting through hard vegetables (your cuts probably won't be perfectly straight).
Prepping tomatoes.
Cutting sandwiches.
If you're looking for a tool that can handle any of these tasks, we think it will be a fantastic fit for your requirements!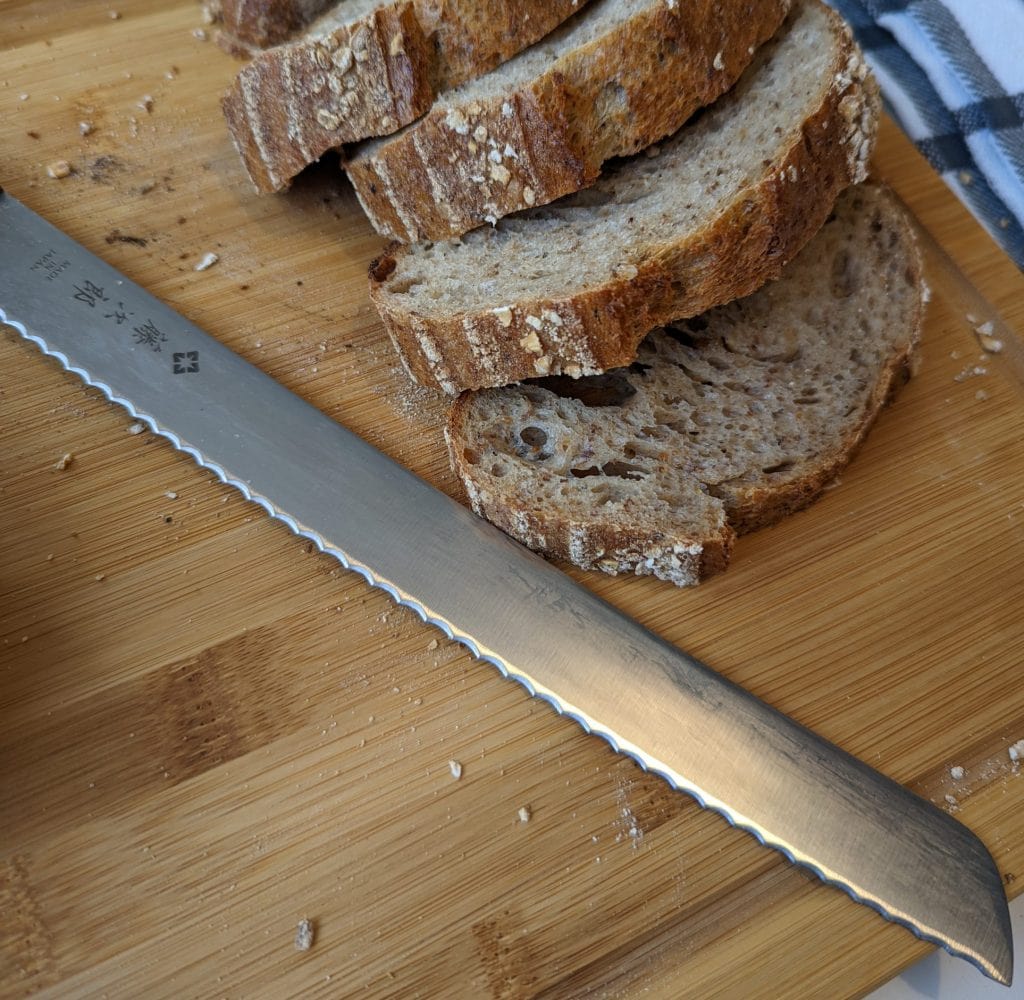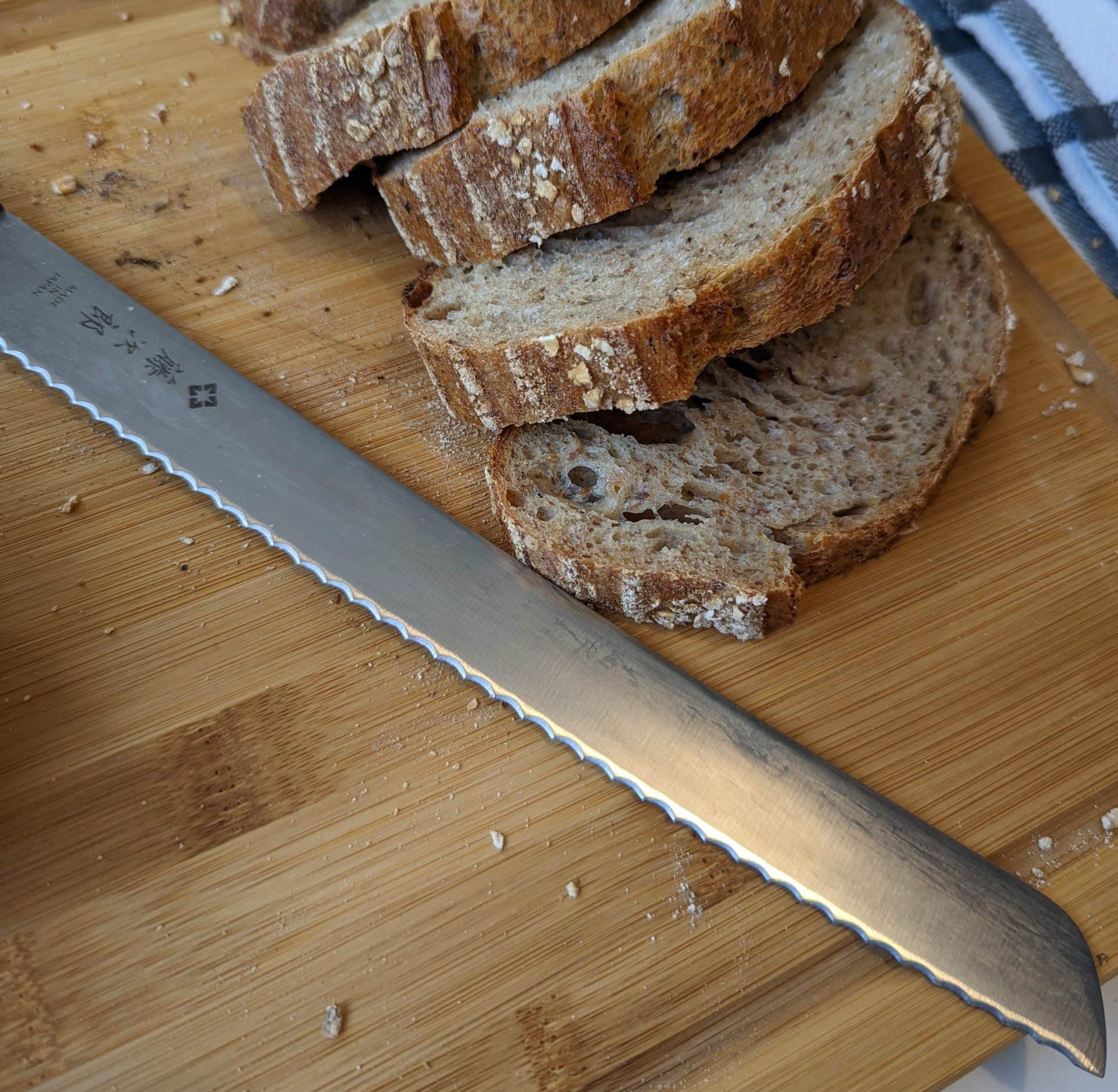 Maintenance and Cleaning
Follow these basic principles to maintain your Tojiro bread slicer:
Keep fully dry when storing.
Never wash in the dishwasher.
Never store loose with other utensils – keep it covered.
Sharpen your blade regularly.
Sharpening
It's recommended that you use a whetstone like this one when sharpening your bread slicer.
Follow these basic steps:
Submerge your whetstone in water until bubbles stop coming out.
Hold your knife firmly at a 45-degree angle with the blade facing you.
Carefully but purposefully move your knife back and forth until you've reached the desired sharpness.
More sharpening tips can be found here.
Cleaning
Follow these cleaning tips to maintain your knife well into the future:
Never leave it submerged in water.
Never clean it in the dishwasher.
Only ever use neutral soaps and moderate temperatures.
After cutting acidic foods, clean and dry as quickly as possible.
Get your knife clean and fully dry as quickly as possible.
Conclusion
If you're looking for a new bread knife under $50, we think the Tojiro Bread Slicer 235mm F-737 is tough to beat. It combines a comfortable handle with a surprisingly durable and sharp blade that should serve you well for many years to come.
Just keep our comments about handle size and balance in mind before pulling the trigger!