The size and construction are the first things you'll notice when trying the XYJ 6.7" Serbian Chef Knife. This is not a small paring knife that you bring out to gently cut away the skin of an apple.
This is a beast meant to handle pretty much any ingredient you would use, from a stew to a full traditional Serbian meal with many guests. That is why we like the XYJ 6.7" Serbian Chef Knife as our best Serbian chef knife, because it is fun to use and highly functional. Here is our in-depth review of this great blade.
General Information XYJ 6.7" Serbian Chef Knife
| | |
| --- | --- |
| Brand | XYJ |
| Price Range | $35-$45 |
| Manufacturing Country | China |
| Total Knife Length (In/cm) | 11.42 / 29.01 |
| Knife Weight (Oz/Gr) | 21.44 / 607.81 |
XYJ has been around since 1986 and primarily deals with high-quality blades that offer a good balance as well as refined practicality. Many of the other products featured on their website also follow that philosophy of getting the most value for your money.
The XYJ 6.7" Serbian Chef Knife, in particular, lets you work with pretty much anything you could want. You will find many videos of bush crafters and woodsmen with the XYJ 6.7" Serbian Chef Knife on their hip. This kind of blade you want for quick trail meals with freshly found vegetables and meat. At 6.7", and an excellent height, it took little effort to prepare pretty much any type of meal without needing to constantly change up the grip on the handle. The knife feels comfortable in your hands and not overly bulky.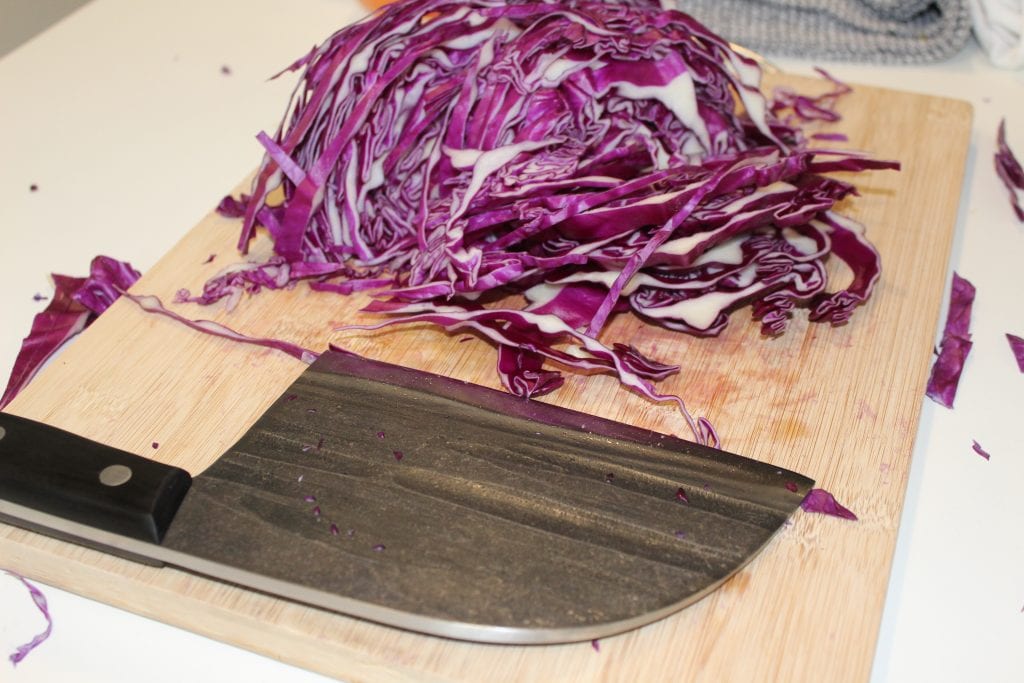 XYJ 6.7" Serbian Chef Knife Unboxing
What a treat to unbox this beautiful blade. The moment you open the packaging and take the knife out of the custom leather sheath, it is easy to tell this is a high-quality forged blade. The intricate designs and color gradient make it one of the more stunning blades our team has ever tried. It is easy to see that XYJ cares about product presentation.
The sheath is durable enough to hold up to frequent use and has the stitching you would expect for a hunting knife more than a kitchen tool. This is the type of blade you can take anywhere, from outdoor cooking to a professional kitchen to preparing your Grandmother's stew at home. In addition, it comes with cooking/mineral oil already on the carbon blade to protect against corrosion.
The Blade of the XYJ Serbian Knife
| | |
| --- | --- |
| Forged / stamped | Forged |
| Blade Material | Handmade forged high-carbon clad steel |
| Blade Flexibility | Not Flexible |
| Blade Edge | Double Bevel |
| Straight/Serrated | Straight |
| Blade angle | 20° |
| Balance | Well Balanced |
| Blade Length (Inches) | 6.7 |
| Blade Height (Inches) | 4.13 |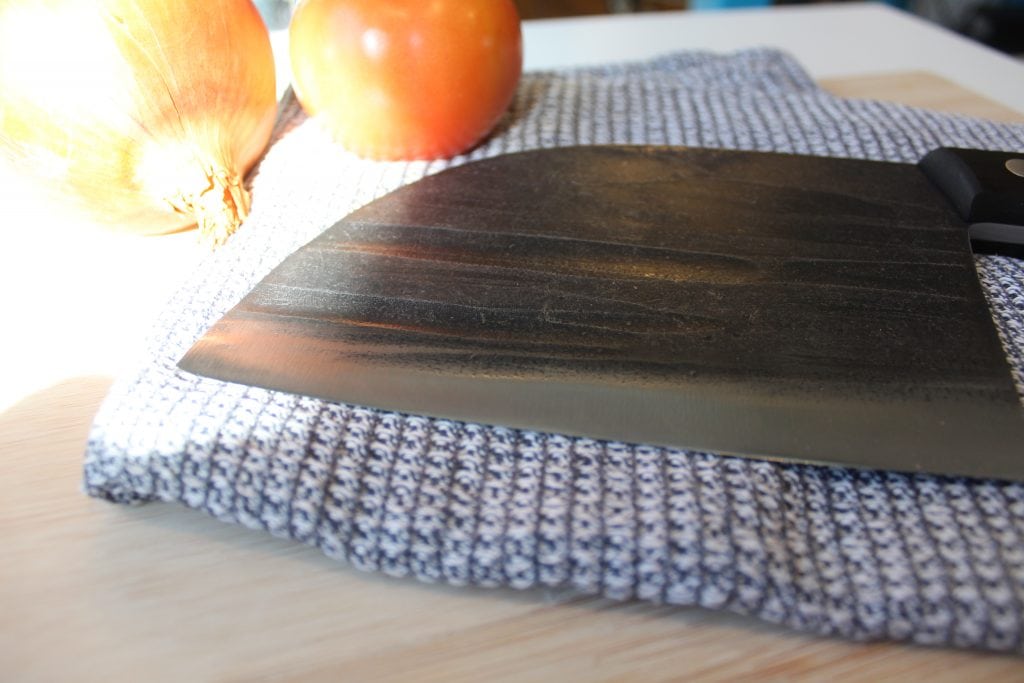 This is beautiful handmade forged high carbon steel, which you want in a durable chef knife. The height works with so many thicker vegetables found on a farm or local grocers. Every time chop or dice will make you feel like you are prepping food for a classy farm-to-table restaurant where delicious local dishes are being served up in front of guest's eyes to heighten the overall experience.
The weight of the blade makes it so much more comfortable for cutting food because you do not need a lot of force. There is no flexibility in the edge, which is preferable with dealing with meat and bones. You should reapply cooking/mineral oil to the blade from time to time to ensure longevity and to help avoid any materials sticking to the sides as you work.
The Handle of the XYJ Serbian Knife
| | |
| --- | --- |
| Handle Length (Inches) | 4.9 |
| Handle Feel | Ergonomic non-slip |
| Tang | Full Tang |
| Handle Material | Integrated steel shank + wood + rivet fixing |
| Handle Color | Black |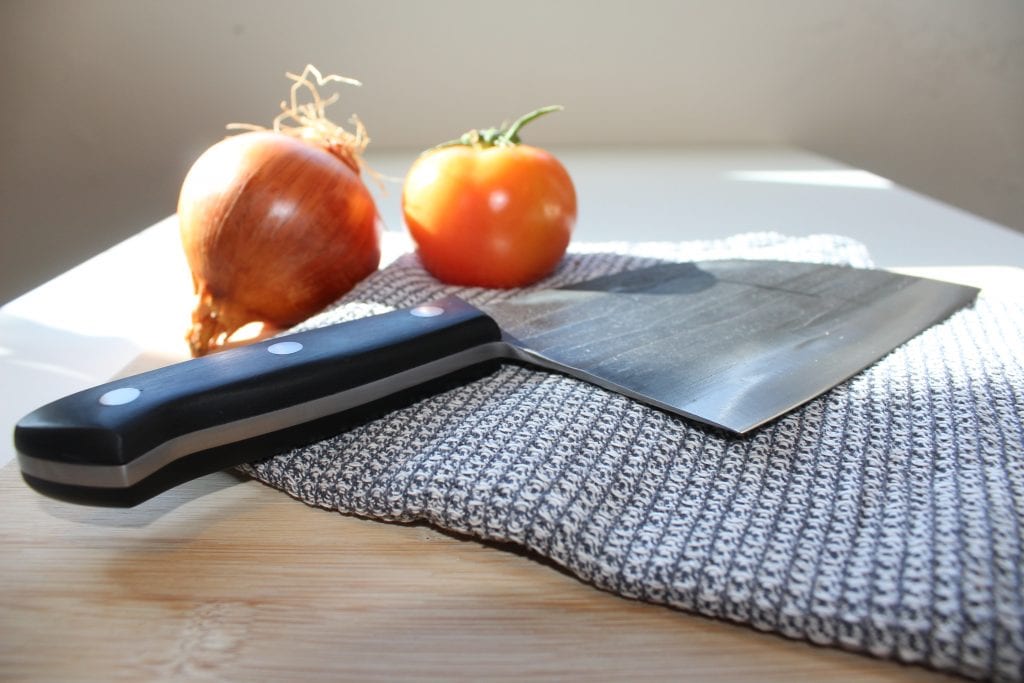 Our testers have bigger hands, and the length of 4.9" allowed enough of a solid grip to prepare all types of food. The handle guard includes a boundary for your grip, and the material helps avoid any slipping. Trust us; you do not want to lose control of this sharp blade!
The finger guard has more boundaries because this is such a high blade compared to others in its class. That helped maintain control while chopping and mincing smaller ingredients like herbs.
The full tang adds more weight to the knife but also creates a better balance. That balance helped us be more comfortable with the Serbian style. The blade really is larger than you expect so having a good balance made it easier to manipulate blade movement.
Uses of the XYJ 6.7" Serbian Knife
This is an authentic Serbian blade. When you pick it up, you feel like you are homesteading deep in the woods chopping all kinds of harvested and hunted ingredients against a large wooden stump. That rustic experience is part of the appeal of this fantastic chef knife.
The XYJ is best for:
Slicing different raw meats like tri-tip steak, breaking down ribs between bones, working with fresh chicken, etc.
This is incredibly easy to smash or crush ingredients you want to maintain juices like garlic or allspice.
It makes easy work of chopping through vegetables for a side dish or fresh salad.
Maintenance and Cleaning
This is a forged blade of high-quality material. You need to use running water with a little bit of soap to keep clean after each use. Be sure to dry completely with a hand towel and not leave it out in the open air to dry. Otherwise, you are likely to see staining on the knife.
Be sure to occasionally use mineral/cooking oil on the blade. This helps keep a quality cut without leaving any residue and prevents rust from creeping into the edge.
The blade is naturally sharp and will not require honing all that often as long as you leave it in the leather sheath to prevent any accidental dropping.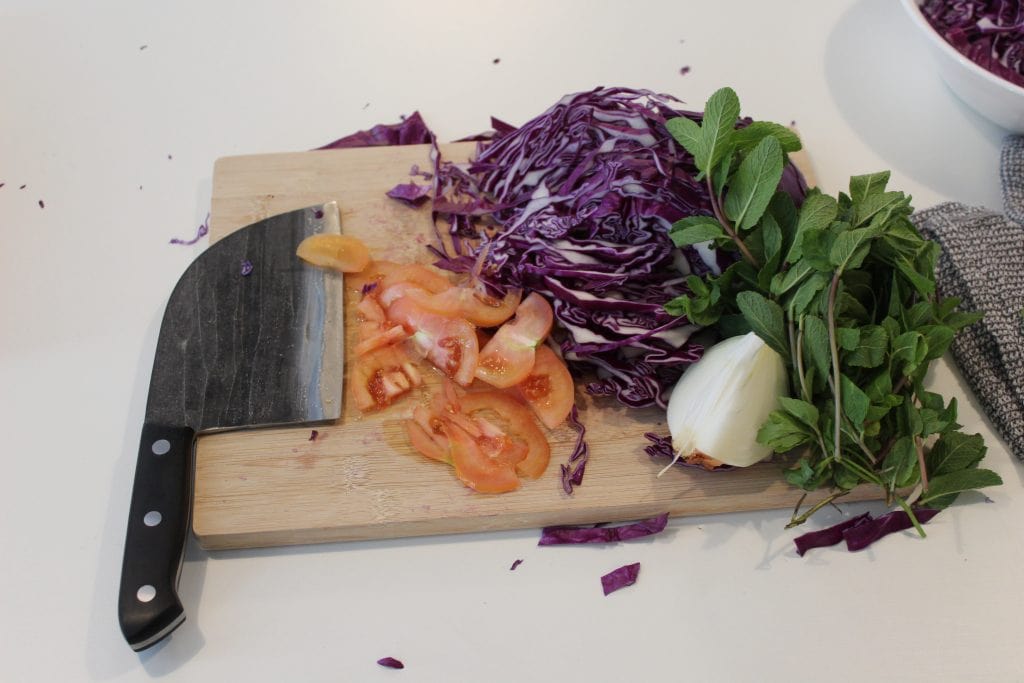 Conclusion
You need to experience the pure fun of using a traditional Serbian knife at least once in their career. This rustic blade provides so much natural power to practically any use and looks fantastic. So if you get the chance to pick up the XYJ 6.7" Serbian Chef Knife, do not miss out on the opportunity!