When it comes to experiencing smooth and professionally efficient cutting and chopping in the kitchen, nothing can beat the performance of a professional chef knife. Besides, it's not just about having a sharp knife that cuts anything. But instead, the joy and pleasure of holding a professionally designed, weighed, balanced, and gripped Chef knife is just next level – whether you're a pro yourself or a beginner in the kitchen.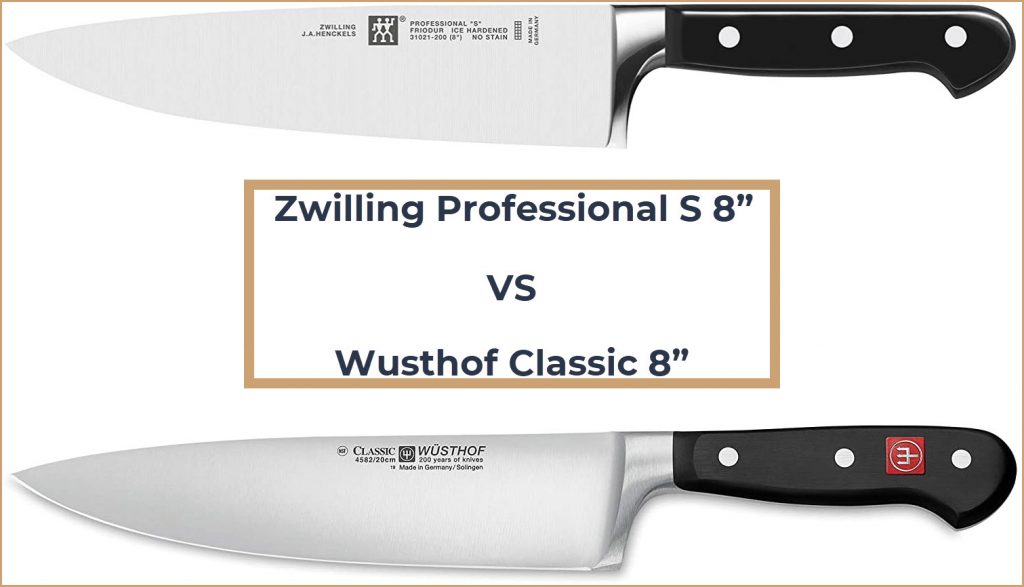 Having that said, it's hard to talk about the best professional Chef Knives and not mention the Zwilling Professional S and Wusthof Classic 8″ Chef. From the smooth and remarkable design to the comfortable grip and extra-efficient performance, there's so much that both these Chef Knives have to offer. But wait, does that sound like any other Chef Knife available in the market? Now don't get confused just yet, as we're here to help you explore the exemplary features, design, and performance details of both these professional Chef Knives in more depth. So you can easily differentiate them from all the other options. Not just that, but our detailed review will also help you pick the ideal Chef Knife for your kitchen use – while eliminating the boring and exhausting knives' demand from your cutlery set.
So without further ado, let's dive into the details – shall we?
The Basic Features:
When it comes to exploring any new item, even if it's a Chef's knife, the most crucial things are the primary features that portray the material, finishing, and quality of a knife. Having that said, here's a list of essential features of Zwilling Professional S and Wusthof Classic 8″ Chef that makes both the knives different from one another:
Features

Zwilling Professional S Knife

Wusthof classic 8'' Chef Knife

Price

Price

Price

Brand


ZWILLING

Wüsthof

Price Range

$115 - $120

$150 - $165

Balance


Balanced

Well Balanced

Manufacturing Country

Germany

Germany

Warranty


Limited Lifetime

Lifetime Warranty

Most suitable for


Ideal for all kitchen activities


All-around, mostly Cabbage, Fish, Fruit,
Head Of Lettuce, Herbs, Meat, Vegetables –
also good for heavier duty work
like thicker vegetables and meat

Dimensions

Zwilling Professional S Knife

Wusthof classic 8'' Chef Knife

Total Knife Length (In/cm)

16.5/41.91

12.5/31.75

Knife Weight (Oz/Gr)

9.8/277.83

11.1/314.68

Blade Length (Inches)

8

8

Blade Height (Inches)

1.5

1.06

Blade thickness/width (Inches)

0.7

3.18

The Blade

Zwilling Professional S Knife

Wusthof classic 8'' Chef Knife

Forged/stamped

Forged

Forged

Blade Material

Carbon Steel

Stainless Steel

Blade Flexibility

Slightly Flexible

Not very Flexible

Tang

Full Tang

Full Tang

Blade Edge

V-Edge

Double Bevel

Straight/Serrated

Straight

Straight

Blade angle

15 Per side

20

HRC (Rockwell Hardness)

57

58

The Handle

Zwilling Professional S Knife

Wusthof classic 8'' Chef Knife

Handle Feel

Ergonomic

Ergonomic

Handle Material

Plastic

Resilient Synthetic Handle, Riveted

Handle Color

Black

Black
Additional Specs: Wusthof classic 8″ or Zwilling Professional S 8"?
Other than the basic features, there is much more than a knife usually carries. From the design to the color and specifically the blade and handle quality – every minor and major detail of the knife matters a lot when you're paying for an efficient chef's knife.
Hence, to help you understand which one of these two, i.e., Zwilling Professional S and Wusthof Classic 8″ Chef knife is a better option that meets your cooking style and preferences, here's a short overview of each one's additional specs.
Wusthof Classic 8″:
Starting with Wusthof's famous Chef's knife, the design of this knife is crafted with high carbon stainless steel that ensures that there will be no tinging, pitting, or rusting of the knife anytime soon. Adding more to the knife's harmony, the metal of this knife expands to the handle's tip – adding more to its contemporary style.
Handle – Additionally, the slim and ergonomic look of its handle makes usage of this Chef's knife even more smooth and more effortless. Additionally, its classic Franco-German look is also complemented with a full aroma handle and three pins that enhance the knife's attractiveness effortlessly.
Blade – If we talk about the blade of this knife, one can hardly miss the lighter edge of this blade that makes extended use as smooth as butter – trust me on this one! This large and strict knife design is further complemented with a curved blade that adds to the smoothness and balance of the knife while you cut almost any and every cooking ingredient on the shelf.
Finally, we can't help but mention the lightweight design, which doesn't promote weakness, but instead, rock hard solid usage convenience for anyone opting for the Wusthof classic 8″.
Some certain additional advantages that should be considered before purchasing this Chef knife includes its:
Initial sharpness and cutting power
Exceptional long life of the blade
Optimal cutting geometry
High-quality manufacturing that promotes reproduction
Zwilling Professional S:
While the Wusthof classic 8"is an intelligent pick, the Zwilling Professional S is also no less its premium craftsmanship and efficient cutting power. Whether it's the superior construction of this knife that is effectively corrected over the past 280 years by the company itself or the no-stain steel and high-carbon blade material of this knife – every feature of the Zwilling Professional S speaks for itself.
Moving on to the complimented design of this knife, one can hardly ignore the honed and hand-finished blade edge of this knife that adds life and enriches your cutting/chopping tasks in the next life. While we're talking about the design and efficient blade, there's no way we can deny the ergonomically designed three-rivet handle of this knife that is designed to offer extreme comfort and fatigue-free usage. In the end, the well-balanced and safe handling of this knife is no less than a quality purchase that speaks for itself, primarily through its appealing black and stainless steel color combination.
Some additional advantages of the Zwilling Professional S include its:
Top-grade sigma-forged construction
Ice-hardened blade with extreme sharpness
Dishwasher safe design
Efficient laser-controlled edge retention
Enhanced cutting and chopping performance
FAQs
Which is better in quality: Zwilling Professional S or Wusthof Classic 8″ Chef knife?
When it comes to quality knife options, both the brands of these knives, i.e., Zwilling and Wusthof, are famous for creating and selling high-quality and premium craftsmanship-based knives. Hence, both of them are outstanding and top-tier in terms of quality comparison.
Which is cheaper: Zwilling Professional S or Wusthof Classic 8″ Chef knife?
While both of these premium quality chef's knives are top-notch when it comes to offering exceptional convenience and smoothness in cutting, chopping, and other relevant cooking tasks, they may differ in their price ranges. Having that said, the Zwilling Professional S is a more budget-friendly chef knife option with a lower market price as compared to the Wusthof Classic 8″.
Conclusion:
Some of the most crucial things you should consider when purchasing a kitchen knife are the cooking style, frequency, and need – all determined by the person's choice of who does the actual cooking, cutting, or chopping. Since everyone has different preferences that make cutting chopping easier and convenient for them through a knife, from sharp blade ends to a round or smooth handle to hold, the purchasing choices can be different for everyone.
If we keep this buyer's perspective in mind, it's hard to determine which of the following knife is an ideal purchase for different users/chefs. However, if we talk about the Wusthof classic 8″ in general, this knife is known to be 100% assembled in Germany. The company of this knife has been manufacturing top-quality knives since 1814 and is a globally identified brand. Yet, it can be a heavy knife for users that aren't fond of professional heavy chef knives. Having that said, the Wusthof Classic 8″ can be the ideal purchase for anyone looking for a stunning knife that isn't too huge and meets the high-quality blade requirements.
In contrast, the Zwilling Professional S is more like a multipurpose knife that offers ease in cutting, chopping, slicing, dicing, and mincing your day-to-day cooking ingredients with a decent weight that makes it easier to carry and use. Not to forget the premium quality manufacturing and the affordable rates of this knife that also sets it as a terrific option for the everyday chefs and cooking enthusiasts looking for a fast and smoothly performing Chef's knife.